April Vacation Activities on Martha's Vineyard
April Vacation Activities on Martha's Vineyard
For many families, April Vacation marks a special time of year for families to reconnect and enjoy the coming of spring. Some families may be planning a trip to their favorite little Island on the east coast, while others who live here year round may be looking for some excitement after the stillness of the cold winter months. Luckily, Martha's Vineyard has a lot to offer for both visitors and locals this time of year! 
On Martha's Vineyard, April Break runs from April 17th through April 21st. During this week, many local businesses, restaurants, and shops will be reopening their doors after their winter hiatus. Experience all that the Island has to offer without the crowds that start coming Memorial Day Weekend. 
Here's a round-up of exciting activities for children and families to enjoy during April Vacation week: 
Sign Us Up! 
Many local businesses are offering some exciting camps, workshops, and classes throughout the course of April Break to keep the kiddos busy. Whether you're looking for something that involves being out in nature or brushing up on some skills, there is a little something for any child of all ages available! 
Kids Do Dance: Directed by dance educator and choreographer Claire Page, Kids Do Dance enables children to develop their own original choreography and create work collaboratively. This program, which runs from April 17th - 21st, will challenge the children through fun, active dance classes that build skill and technique; nurture the child's choreographic voice and individual artistic expression through composition studies; and develop the child's connections to professional dancers in residency at The Yard and to the community of Martha's Vineyard.
These classes culminate in an exciting family share day on Fridays where parents, grandparents, siblings, and friends join in the fun! Open to all levels of experience and ability. Registration required.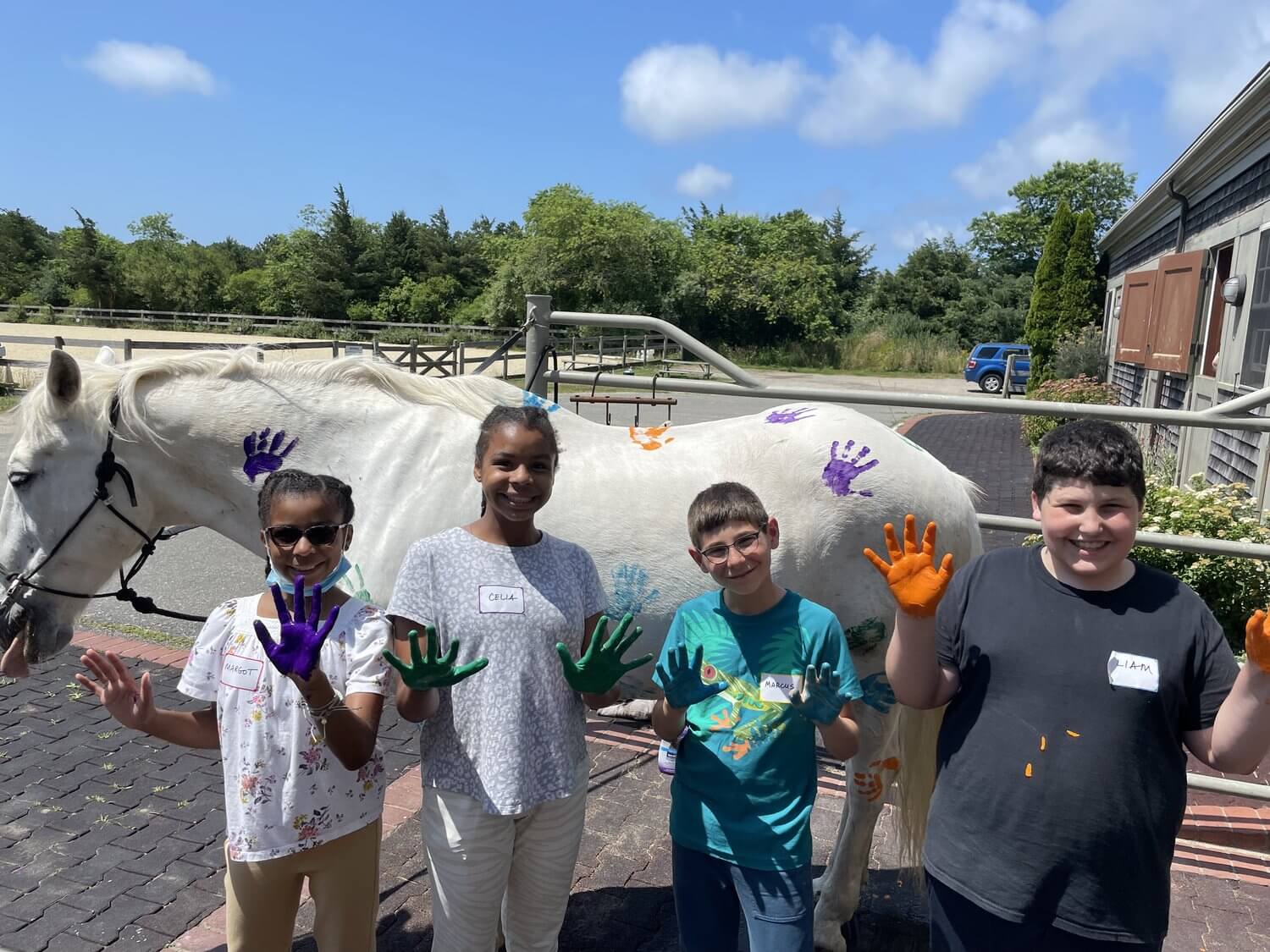 Misty Meadows Youth Horsemanship Classes
Misty Meadows Youth Horsemanship Classes: Throughout April Vacation Week, Misty Meadows is offering a handful of Youth Horsemanship Classes that will not only get the kids outside, but will also provide the positive support and strengths that all young people need to succeed.  Misty Meadows' youth horsemanship programs are more than just riding. These programs also teach positive values, social competencies, positive identity, and a commitment to learning. Registration required. 
Spring Into Nature April Vacation Week: Explore different island properties, learn about wildlife, grow food, make crafts, sing songs, listen to stories and much more during Spring Into Nature April Vacation Week! Children aged 5 to 10 years old are invited to experience some of the Island's most charming properties, including The Farm Institute, Long Point Wildlife Refuge, Native Earth Teaching Farm, Island Grown Initiative, and Felix Neck Wildlife Sanctuary. Registration required. 
Boys & Girls Club: Get ready for an exciting week of Science, Technology, Engineering, Art, and Marth (STEAM) programming at the Martha's Vineyard Boys & Girls Club! From April 18th to April 21st, children from grades 6 through 9 can participate in interactive, hands-on activities that will engage their minds and spark curiosity. From coding to creating digital art, this STEAM program is sure to inspire and engage young minds. Registration required. 
The fun doesn't stop there! Matha's Vineyard Boys & Girls Club is also offering Math Enrichment Camp for grades 3 through 8 from April 18th to April 21st. This project-based, interactive program is designed to enhance your child's math skills, and experienced instructors will be there working directly with students to develop their understanding of key math concepts and problem-solving skills. High school students are also invited to participate in MCAS Prep during this program. Registration required. 
Have some fun! 
April Break should also be about children getting some well-deserved rest. After all, it is their last break before summer vacation, so why not fill some of the time they have with some fun trips out of the house? 
Go for the Brass Ring: Pay a visit to the nation's oldest platform carousel! The Flying Horses Carousel in Oak Bluffs is a fun activity for children, teens, and adults alike. Take your chance and reach for the iconic brass ring to win a free ride! 
Go bowling: Spend an afternoon or evening challenging the whole family to a round of bowling at The Barn, Bowl, & Bistro in Oak Bluffs! This spot is the only public bowling alley on the Island, and is also home to some great food too.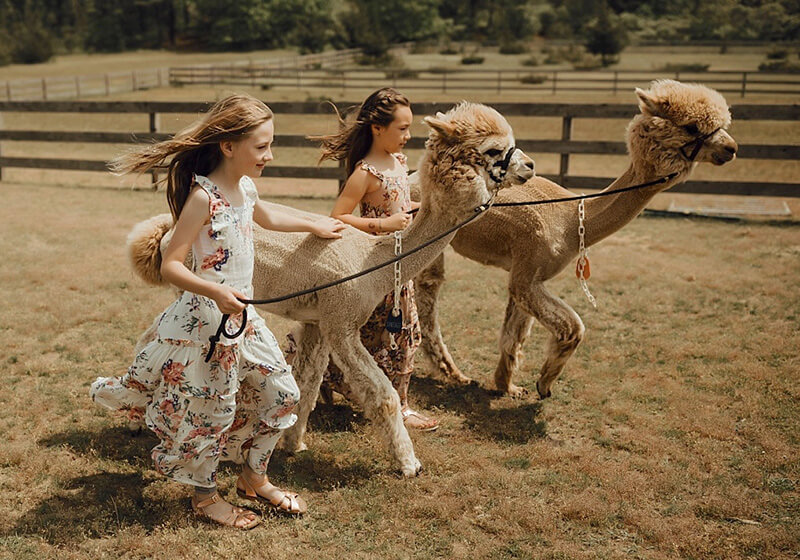 Alpaca Walk & Talk, Photo by Danielle Navratil
Walk an Alpaca: Give the kiddos an experience to remember with Island Alpaca Company's Alpaca Walk & Talk Program! Walking with alpacas is a great way to learn more about how gentle they truly are. Every participant will learn the basics of handling an alpaca safely as well as where they come from and why they are important. One can see how sweet and gentle they are by interacting with them, and literally get your hands on them to see how luxurious and soft their fleece is. This option is open to all ages, and registration is required. The gift shop and alpaca farm is also open daily during vacation week in case you're looking for something less hands-on. 
Visit a Museum or Art Gallery
School vacations can be both educational and fun, and that's where the Island's museums and art galleries come into play! Delve into Martha's Vineyard's rich and diverse history, or take a gander at some work by some of the best artists the Island has to offer. There are a handful of museums and galleries to choose from, the hardest part is picking just one! 
Field Gallery: Bring the family up to West Tisbury for a day admiring contemporary art by both established and emerging artists at the Field Gallery. When exploring the grounds, you'll find massive whimsical sculptures by Island-famous artist Tom Maley, and within the gallery itself you can find some incredible paintings, photographs, jewelry, and much more made by local artists!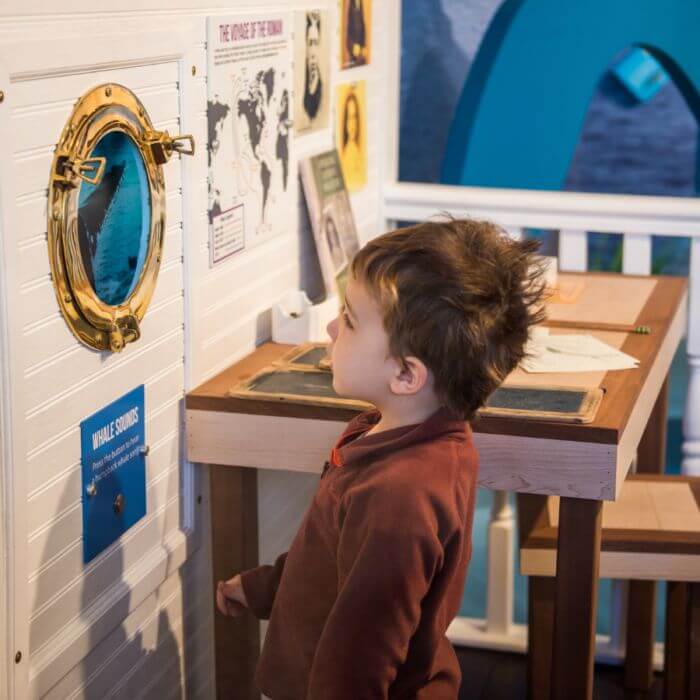 Martha's Vineyard Museum Hands-On History
Martha's Vineyard Museum: Has your family taken a trip to the Martha's Vineyard Museum yet? If not, you're missing out on some incredible Island history and some stunning views of Lagoon Pond! Catch a glimpse of the iconic Gay Head Light, explore the museum's Hands-On History with little ones, and experience the Museum's current exhibits in Vineyard Haven. 
Featherstone Center for the Arts: Experience the beauty of textures and patterns from rippling waves, reflective windows, beautifully quilted textiles and everything in between at Featherstone Center for the Art's Textures and Patterns Show. This show will be on display at the Francine Kelly Gallery from 12 to 4pm each day during vacation week, and admission is free! 
The Carnegie Heritage Center at The Vineyard Preservation Trust: Stop by The Carnegie in Edgartown and tour the space through the lens of the Vineyard Preservation Trust's historic showcase. Open through April on Thursdays and Fridays, 10am to 3pm, the OPEN flag will lure you into the world of Island history and much more. Also, their Living Landmark "The Flying Horses" will be open daily 11am to 4:30pm daily through April Vacation Week! The perfect horse ride for kids of all ages!
Get Out In Nature
Spring on Martha's Vineyard is an absolutely stunning time to be exploring the Island, so why not take advantage of it during April Vacation week? There are plenty of outdoor activities to enjoy, including hiking the island's many trails, renting a bike and exploring the scenic bike paths, or taking a walk along the beach!
Polly Hill Arboretum: One of the best places to experience the beauty of all seasons on Martha's Vineyard is Polly Hill Arboretum in West Tisbury. This horticultural and botanical landmark was developed by the legendary horticulturist, Polly Hill in 1958, and is home to rare trees and shrubs from around the world! During April Vacation week, the arboretum will be offering a Woodland Gnome Scavenger Hunt, where families are encouraged to find 10 gnomes that are hiding throughout the Native Tree Trail. Once you're all tuckered out from searching, the grounds are also a fantastic place to enjoy a family picnic!
Storybook Walk: There are so many trails across the Island of all shapes and sizes that families can enjoy during vacation week, but a family-favorite for both locals and visitors alike would definitely be the Storybook Walks by Sheriff's Meadow Foundation. Visit either Sheriff's Meadow Sanctuary in Edgartown or Nat's Farm in West Tisbury to experience children's stories during your walk! 
Visit a Beach: While April may not be the best time to take a dip in the water, that doesn't mean that the beach isn't worth the trip this time of year! During the off-season, people are able to access a handful of beaches that are closed to the public during peak summer season, including Lucy Vincent Beach, Lambert's Cove Beach, Squibnocket Beach, and more. Each of these beaches features a unique landscape, and makes the perfect setting for a sunset stroll or an afternoon picnic. Since there are less crowds this time of year, it's also a perfect time to go  sea glass hunting!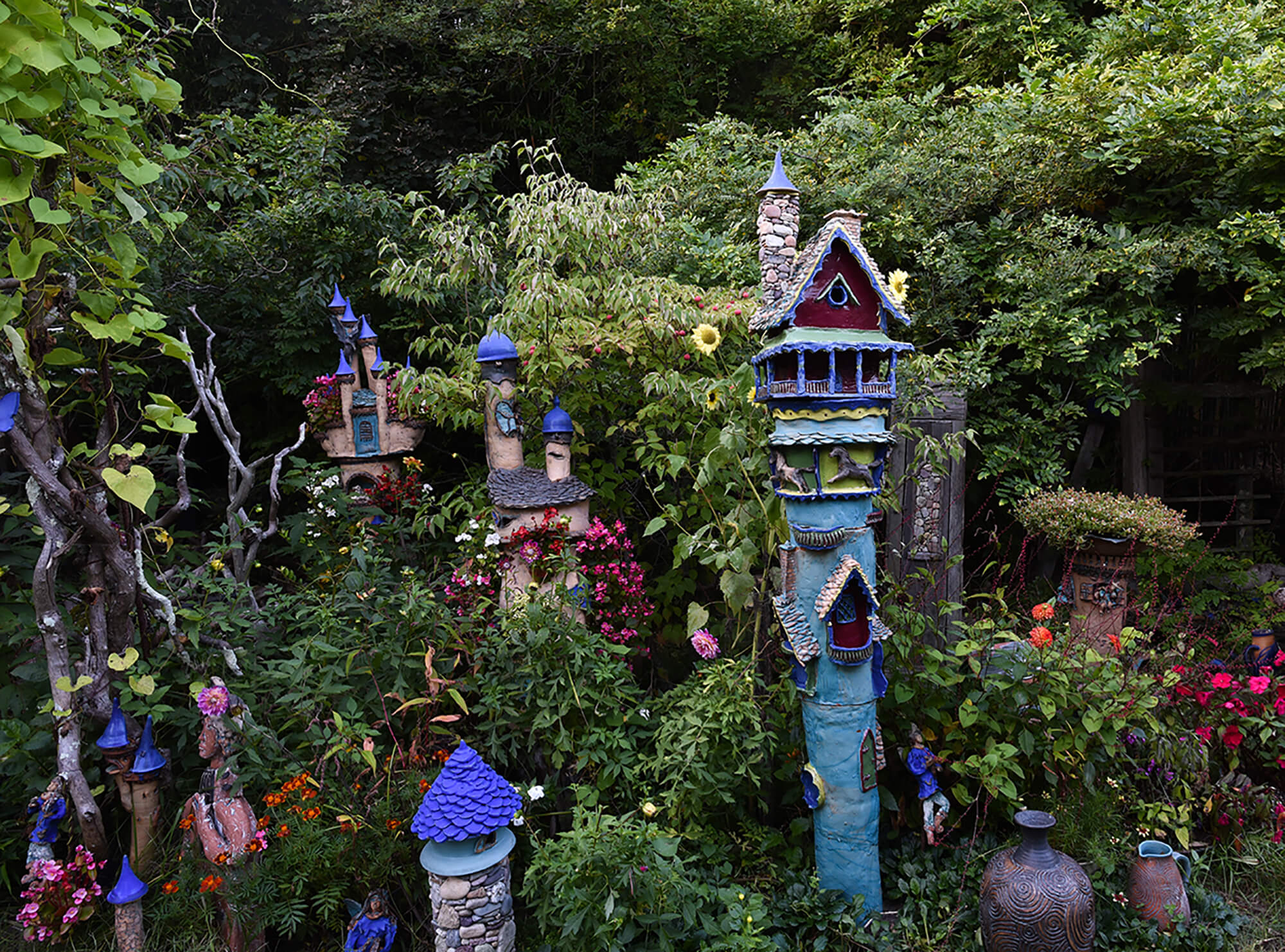 Island Folk Pottery Trail
Island Folk Pottery Trail: Take a step into a magical world when visiting Island Folk Pottery in Chilmark. This sculpture trail meanders through the Chilmark woods and features mixed media and clay sculptures that represent Tree Spirits, Earth Guardians, and Fae musicians. They come to life under the leafy canopy to create enchanted settings tucked amidst the under-story.
Mytoi Gardens: Looking for some peace and quiet? Taking the trip out to Mytoi Gardens on the island of Chappaquiddick will do just that! Mytoi is an intimate Japanese-style garden flourishing with both native flora and exotic plants, offering visitors a destination for quiet contemplation. Sheltered by a lovely pine grove, the preserve includes a small pond and island—habitat for turtles, frogs, and goldfish—non-native and native flowers and plants, and a trail leading toward Poucha Pond and the salt marsh. It's a great place to spend some time in nature, and taking the quick ferry ride over is a huge plus for kids! 
Go for a Bike Ride: Cycling is one of the best ways to experience the natural beauty on Martha's Vineyard, and there are miles of bike trails that can be found across the Island for families to enjoy safely! If you don't have a bike with you, don't worry. There are plenty of bike rental shops available that can get you all the gear you need, and the VTA can take you and your bikes all around the Island to get to the trails you're looking for. 
VCS Earth Day Beach Clean Up: What better way to celebrate the end of April Vacation than by helping clean up our local beaches? Earth Day just so happens to take place on Saturday, April 22nd, and Vineyard Conservation Society is looking for volunteers of all ages to assist in cleaning up our favorite beaches. Following clean up, there will also be an Earth Day Festival at the Martha's Vineyard Museum with activities for all ages, educational presentations, food and drinks.
Take a Trip to the Library
April Break is also a great time to explore the Island's local libraries. Each town has a dedicated library that works hard to bring activities for children year-round, and they are stepping it up during vacation week! 
Oak Bluffs Public Library: Have some kiddos who may be interested in an outdoor scavenger hunt? The Oak Bluffs Public Library is hosting a daily scavenger hunt that focuses on the five senses from 10am - 4pm Tuesday through Saturday. Here is a list of some other fun activities the Oak Bluffs Public Library is offering during April Break:
Wednesday, April 19

: Storytime - 10:15am

Thursday, April 20

: Lego Club - 3pm

Friday, April 21

: Kids Crafting - All Day

Saturday, April 22

: Storytime on the Lawn - 10:15am

Saturday, April 22

: Earth Day Clean Up - 11am, clean up begins at the library
Edgartown Public Library: School vacations are a great time for children to express their creativity, and the Edgartown Public Library has a handful of fun crafts planned for the week! They are kicking off the week with Make It Monday on April 17th, where children of all ages are invited to build and craft with various supplies from 10:30am - 12pm. But the fun doesn't stop there! Here is a list of some other fun activities the Edgartown Public Library is offering: 
Tuesday, April 18th

: Open Play-Doh Play - 10:30am

Wednesday, April 19th

: Special Truck Themed Storytime - 10:30am

Thursday, April 20th

: Wiggle with the Words Storytime - 10:30am

Friday, April 21st

: Earth Day Craft - Drop in 10:30am-4:30pm
West Tisbury Library: Get an in-depth introduction to all the wonderful farming and agriculture that takes place on Martha's Vineyard at the West Tisbury Public Library's Chicken Program with Island Grown Initiative on April 18th. Starting at 2:30pm, people of all ages are invited to meet and learn all about chickens! But that's not all, the library is also hosting some other events throughout the week that you don't want to miss: 
Thursday, April 20

: Pinkalicous Tea Party - 2:30pm. Sign ups required. 

Friday, April 21

: Music with Maryse - 10:30am 

Saturday, April 22

: Family Craft Table - 10:30am-3pm
Create Your Own Fun
While there are plenty of fun activities across the Island being offered by a handful of local businesses and organizations, it can also be fun to do a "staycation" at home, or to make your own fun while out and about.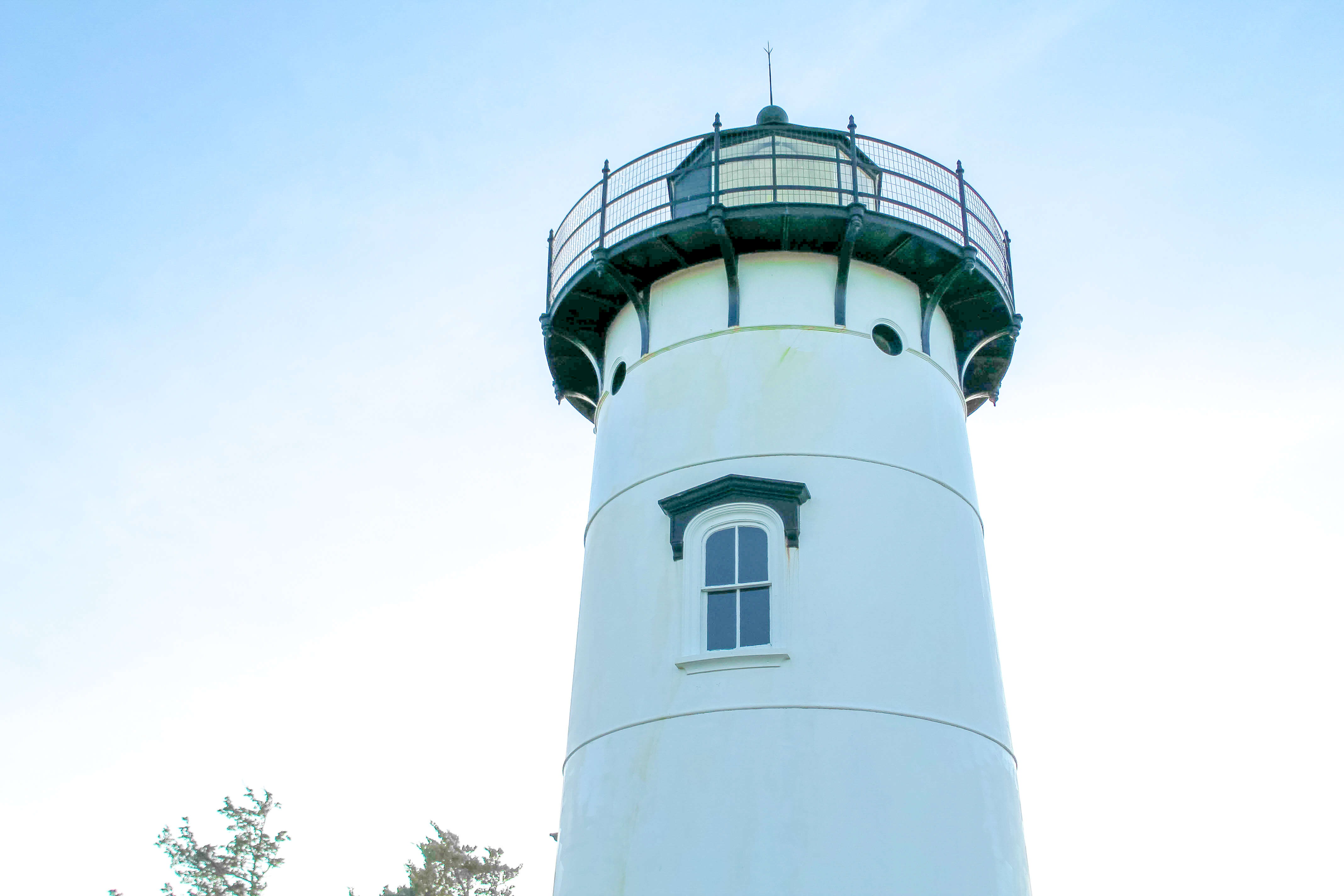 East Chop Lighthouse
Lighthouse Treasure Hunt: Why not make learning about your favorite Island fun? There are five beautiful lighthouses on the coasts of Martha's Vineyard, and April Vacation is the perfect time to explore them all with the whole family. Make your own Lighthouse Treasure Hunt Tour by printing out photos of all five Island lighthouses and making a visit to each one! 
Sail Into Imagination: Starting March 13, 2023, Steamship Authority will be accepting entries for their 8th annual "Sail into Imagination" art contest for students in grades K‐12 living on Cape Cod, Martha's Vineyard and Nantucket, and in Fairhaven and New Bedford. Thirteen prize winners will be selected, and the winning artwork will be featured in a 2024 Steamship Authority calendar and will be displayed on the Steamship's website and select ferries. All entries will be entered into a grand prize drawing for a $150 Visa gift card.
Shop Local & Make a Meal Together: There's only one thing that's better than food made with love, and that's food made lovingly by everyone in the home! Shop for local produce at Morning Glory farm, break out the pots and pans, and cook at home with your loved ones. It's not only going to be super delicious, but it will also be a memory that you can all cherish for years to come. 
Overall, April vacation on Martha's Vineyard is a great time to visit the island and enjoy its unique blend of natural beauty, culture, and history. Whether you're looking for relaxation or adventure, there's a little something for everyone on this picturesque New England island.