JOIN THE MVY CHAMBER OF COMMERCE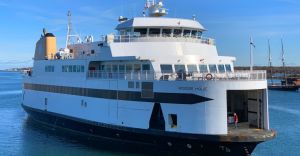 WELCOME ABOARD! We are pleased to present our Martha's Vineyard Chamber of Commerce Membership options.
Our membership options are designed to match your business with an investment level that best fits your current needs, activity level, and desire to financially support our important work in the community.
We are also happy to create custom membership packages that include sponsorship opportunities for enhanced exposure. Please feel free to contact our Membership specialist at membership@mvy.com with questions or to learn more about the benefits of Chamber Membership.
We very much appreciate your support and look forward to providing you with dedicated service for many years to come.
SELECT YOUR DESIRED LEVEL OF BENEFITS
CHAMPION
Top business leaders in the community – known and respected for giving back and leading the charge to make Martha's Vineyard a better place to live, work, and play – will find the Champion Membership a perfect fit. Customized to fit your business needs. Robust business profile with all available features, PLUS recognition on every web page and email, and much more.
PARTNER
Our Partner level membership is ideal for companies that are committed to investing the Island business community, while also assisting to sustain the Chamber's existing business, industry, and educational efforts. Your business listing will have all the bells & whistles AND you'll be catapulted to the top of your category listings.
EXECUTIVE
Executive level membership is the perfect option for organizations that want to maximize their membership dollars. The best overall value of discounts, website features, incentives & promotional opportunities. Enhanced business listing with logo, description, highlights, and photo and video gallery PLUS your logo in our Community Partners on every page.
LEADER
Combine all the benefits of membership with an effective targeted marketing campaign designed to increase your visibility and brand year-round PLUS enhanced social media presence and a boosted web listing on our heavily trafficked website. Enhanced business listing with logo, description, highlights, and photo and video gallery.
SUSTAINER
Our Sustainer level membership is the best value for small businesses seeking to become more engaged in the Island community and is designed to promote your growing business with enhanced member benefits. Business listing with include logo and description.
CONTRIBUTOR
A entry-level membership designed for small and micro-businesses to gain access to the powerful benefits the Chamber provides. A basic business listing with no logo or images.
SOLO / NON-PROFIT
A discounted basic membership available only to non-profits and businesses with no employees. A basic business listing with no logo or images.
NON-BUSINESS SUPPORTER / TRIAL
Access to select member benefits. Ideal for retirees who wish to continue to engage in the business community or new businesses (trial limited to one year only).