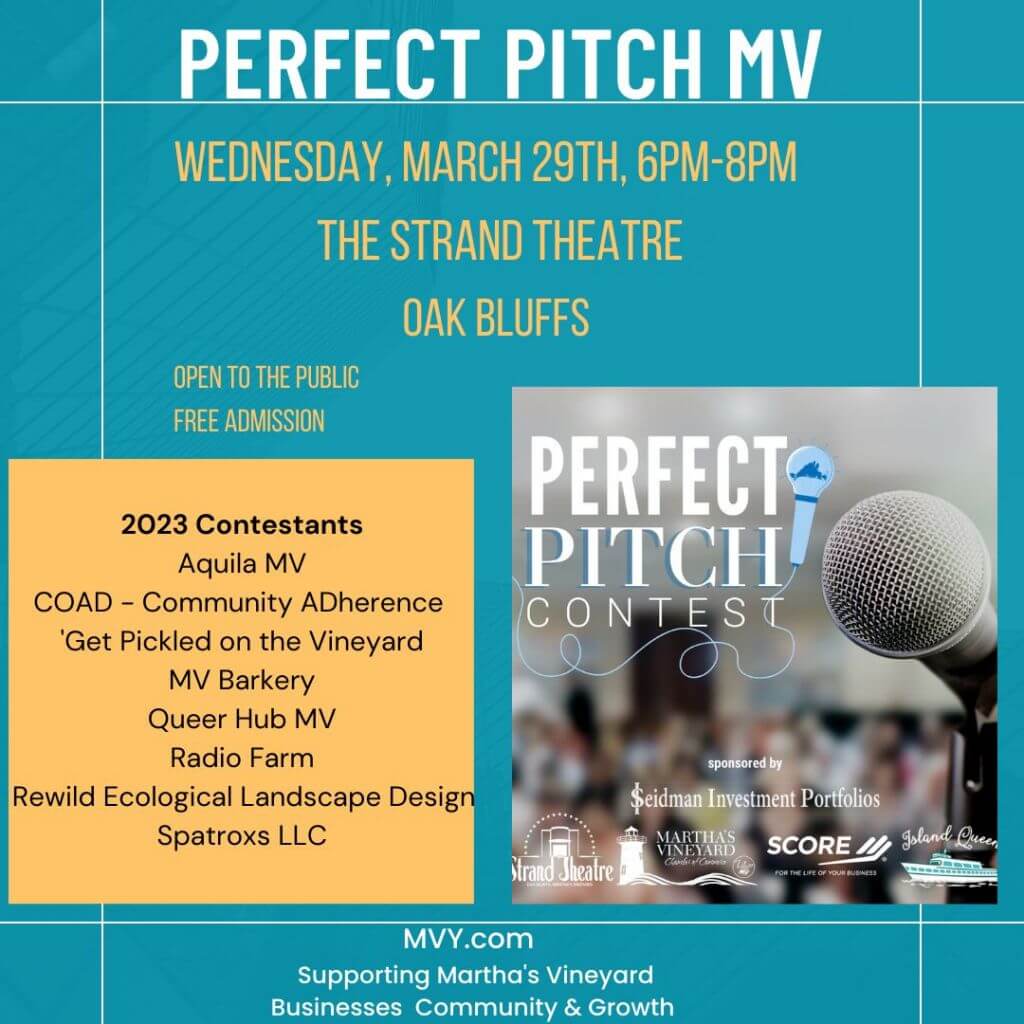 The Perfect Pitch MV contest is a "Shark Tank"-like opportunity to pitch a new business idea to a panel of judges, and potentially win a cash grant. It is open to any Martha's Vineyard resident with an idea for a small business whose identity is based on the Vineyard OR has a small business on the Vineyard and is ready to evolve the business. Here's all you have to do to start making your big idea a reality:
Deadline for applications is 4pm on Wednesday, February 22nd. 
All applicants will be notified by February 24th as to whether or not you will be invited to participate in the PerfectPitch MV contest to be held on Wednesday, March 29th at the Strand Theatre from 6:00 pm - 8:00 pm.
ALL contestants MUST attend the contest orientation held at the Chamber of Commerce on Thursday March 9th from 5:00 pm - 6:30 pm
Coaching will be available from SCORE and MVY Chamber mentors to help you create your Perfect Pitch. We will offer optional (but highly recommended) practice and coaching sessions to help you hone your pitches on: Saturday March 11 & Saturday March 18, 9am-12pm and Saturday March 25th, 10:00 am Contest Dress Rehearsal at The Strand Theatre. Practice your pitch in front of a group of mentors/Chamber Ambassadors for final tips before the contest. More details to follow.
The 4th Annual Perfect Pitch MV will be held on Wednesday, March 29th from 6:00 pm - 8:00 pm at The Strand Theatre. Format for the Perfect Pitch MV contest is:
Participants have THREE MINUTES to make their Perfect
Pitch and an additional 2 minutes to respond to questions by
our panel of judges
Three GRANT winners will be selected that night!
Please direct all questions to Guinevere Cramer at the Martha's Vineyard Chamber of Commerce via email guinevere@mvy.com or by phone 508-693-0085 ext. 10.
Perfect Pitch MV is sponsored by the Martha's Vineyard Chamber of Commerce, Seidman Investment Portfolios, SCORE Cape & Islands, The Strand Theatre, and numerous other contributors