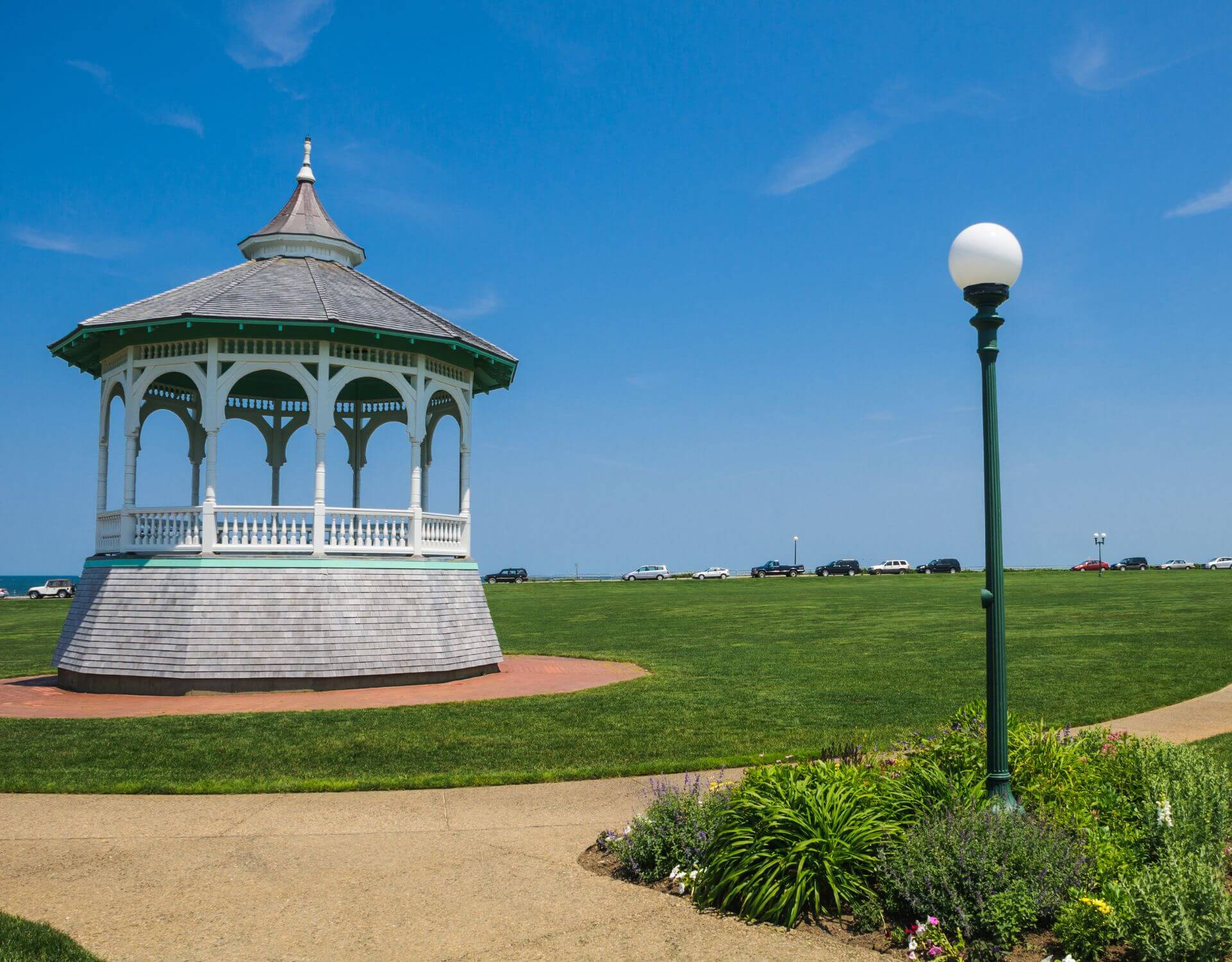 Oak Bluffs is liveliest of  the Vineyard's towns – more high-spirited than haute.  From the colorful gingerbread cottages to the Flying Horses Carousel, from Ocean Park to harbor-side bars, Oak Bluffs delivers on fun. ​
When you're in Oak Bluffs, don't miss:
The gingerbread cottages (officially known as the Martha's Vineyard Camp Meeting Association and informally known as The Campground). These whimsical cottages were built in the second half of the 1800's and are iconic to Martha's Vineyard. Stop by the Cottage City Museum for a glimpse into history.
Picturesque Ocean Park with its historic gazebo (great for kite-flying!)
Flying Horses Carousel is the oldest continuously operating carousel in the United States! Kids of all ages can hop on a steed and try to catch the brass ring!
Oak Bluffs Harbor is bordered on one side by restaurants and bars as well as  fishing charters and water sports opportunities for everyone from novice to expert.
Walk the North Bluff seawall, and cast your rod from the beautiful, and wheelchair accessible, fishing pier.
When you just have to hit the beach, beautiful walking and family-friendly swimming can be found at Inkwell and State Beach.
Don't miss all the shops, restaurants, cafes and ice cream shops in the town center
Just outside of the town center, enjoy Island Alpaca's silly and interactive herd or catch an exhibition, reading or concert at Featherstone Center for the Arts.
INFORMATION CENTER: open Memorial Day to Columbus Day, located near the Flying Horses Carousel.
PUBLIC BUS STOP: located on Seaview Avenue, near Ocean Park and the Steamship Authority ferry terminal
PUBLIC RESTROOMS: located next to and inside of the Steamship Authority ferry terminal, in the Dockside building along the Harbor, on Kennebec Ave near the Post Office and on the Harbor near Our Market. This location also has showers.
Insider Tip: The "Gingerbread Cottages" are iconic to the Vineyard, but sometimes a little tricky to find!  The formal name is the Martha's Vineyard Camp Meeting Association, also known as The Campground (although no one camps there), also popularly referred to as "Gingerbread Cottages" (although the cottages are made of wood).  You can access all 330 of the cottages through entrances on the Campground's perimeter across the street from the Oak Bluffs Harbor, as well as from walkways that run back from Circuit Avenue.  Take a stroll back in time, around the Tabernacle, through the fun Cottage City Museum and in summer, enjoy a guided tour!