Celebrate Juneteenth on Martha's Vineyard
Now recognized as a federal holiday, Juneteenth is celebrated annually on Martha's Vineyard as a weekend-long multicultural extravaganza of engaging speakers, music, food and more. A celebration of freedom, Juneteenth recognizes June 19, 1865, when, despite being two years after the Emancipation Proclamation, the United States finally achieved total abolition of slavery.
Emerging as a port for maritime business by the end of the 17th century, Martha's Vineyard is known to have been engaged in the slave trade. However, the community of Martha's Vineyard showed support for abolition as early as 1787 with the arrival of former slave and preacher John Saunders, who is credited with bringing Methodism to what is now Oak Bluffs.
Island businesses, nonprofit organizations, and the entire community now come together yearly to celebrate the newest federal holiday, with a weekend filled with art, music and lectures by leading scholars of black history.
Martha's Vineyard, especially Oak Bluffs, has been a renowned getaway for Black families since the 1800s. We are proud of our legacy and continuing efforts to be a safe place for all to enjoy year-round.
Join the Martha's Vineyard Chamber of Commerce in feeling the power of this day, learning from our history, celebrating our progress, and recognizing and engaging in the work that continues.
Saturday, June 17th
Event: The Annual Juneteenth Jubilee Cultural Festival presented by Inkwell Haven Foundation in partnership with Martha's Vineyard Camp Meeting Association
Location: The Tabernacle | 80 Trinity Park, Oak Bluffs (The Campgrounds)
Time: 12:30 p.m. - 7:00 p.m.
Description: Juneteenth Jubilee Festival kicks off at 12:30 with the Juneteenth Flag Raising Ceremony and leads into a full day of culture.  Learn more about Martha's Vineyard History, join for a fireside chat with Pulitzer Prize Winner, Nikole Hannah-Jones, and continue with cultural performances by jazz pianist Christian Sands, world-renowned Actress Lynn Whitfield,  Founder of Rock Noire, Musician/Vocalist Grace Gibson, Harpist Tulani, local performers Sean & Siren and more! Juneteenth Jubilee Cultural Festival is free and open to all
Event: The Juneteenth Jubilee Cultural Festival After-party presented by Inkwell Haven Foundation
Location: MV Flavors | 11 Circuit Ave, Oak Bluffs
Time: 9:00 p.m. - 12:30 a.m.
Description: Let loose after a full day of intellectual and cultural entertainment at the Juneteenth Jubilee Festival After-Party at MV Flavors.  DJ music and dancing!
Sunday, June 18th
Event: Union Chapel Christian Union Presents in partnership with Inkwell Haven Foundation Special Sunday Service with Rev. Dr. Michael Eric Dyson
Location: Union Chapel | 55 Narragansett Ave, Oak Bluffs
Time: Prelude begins at 9:45 a.m.
Description: Union Chapel will open its doors for a special Juneteenth Sunday Service where renowned author and professor, Rev. Dr. Dyson will deliver the Sunday Sermon.
(Note: Union Chapel will open fully for the season July 2, 2023)
EVENT: Union Chapel Special Sunday Service with Rev. Dr. Michael Eric Dyson

DATE: Sunday, June 18, 2023

TIME: 10-11:00 AM

LOCATION: Union Chapel 55 Narragansett Avenue, Oak Bluffs

DESCRIPTION: While Union Chapel Sunday Service does not officially begin for the season until July, in celebration of Juneteenth weekend, the church will open doors for service Sunday, June 18th at 10:00 AM

FEE/TICKET PRICE: Free/Open to all

EVENT: Amistad Ship Tours

DATE: Saturday, June 17 10:00am – 2:00pm;  5:00pm to dusk; Sunday, 10:00am – 4:00pm

TIME: See above

LOCATION: Vineyard Haven Ship Yard

DESCRIPTION: Tour the Amistad! The schooner Amistad, a replica of the historic ship that became famous after a group of enslaved Africans led a successful revolt and won their freedom in the U.S. Supreme Court, will drop anchor at Martha's Vineyard for Juneteenth weekend. (From the Vineyard Gazette)

FEE/TICKET PRICE: Free

EVENT: Sailing to Freedom Panel at MV Museum

DATE: Saturday, June 17

TIME: 10-11:30 AM

LOCATION: MV Museum

DESCRIPTION: VGMG presents Sailing to Freedom Panel at MV Museum with Author/historian Dr. Timothy Walker, President of New Bedford Historical Society, Dr. Lee Blake, and Bow Van Riper, Librarian & Historian MV Museum. Sponsors Vineyard Wind, HistoryMakers, Toyota, Cape Cod Five, MV Chamber of Commerce. Moderator Shelley Stewart, MV Museum Board member

WEB LINK: Museum site - tickets will be on sale by May 1

FEE/TICKET PRICE: $50.00

EVENT: NAACP Martha's Vineyard Branch presents 2nd Annual Taste of Juneteenth

DATE: Saturday, June 17

TIME: 10-11:30 AM

LOCATION: PA Club

DESCRIPTION:  A food sampling showcase of local BIPOC chefs, featuring soulfully inspired dishes that reflect the Black cultural experience, fused with diverse cultures and traditions.

FEE/TICKET PRICE: TBD

Oak Bluffs Library Celebrates Juneteenth at HarborFest 2023

Saturday, June 17th 10am-6pm

Oak Bluffs Library

Oak Bluffs Library will have a tent at HarborFest to celebrate Juneteenth! Our Children's Librarian, Michelle Lynch, will be in our tent providing a Juneteenth craft, magnetic poetry and both adult and children's library books that can be checked out right from the tent! The featured books that people can check out will be from our adult African American collection and children's books focussed on Juneteenth and celebrating black heritage.

Juneteenth Potluck!

Tuesday, June 20th 5:30pm

Oak Bluffs Library

Celebrate Juneteenth with us, at our cookbook potluck! We'll cook different recipes from the same cookbook and come together for a meal and discussion. The cookbook will be at the circulation desk -- choose your recipe and we'll make a copy for you. The cookbook is called Watermelon and Red Birds by Nicole A. Taylor.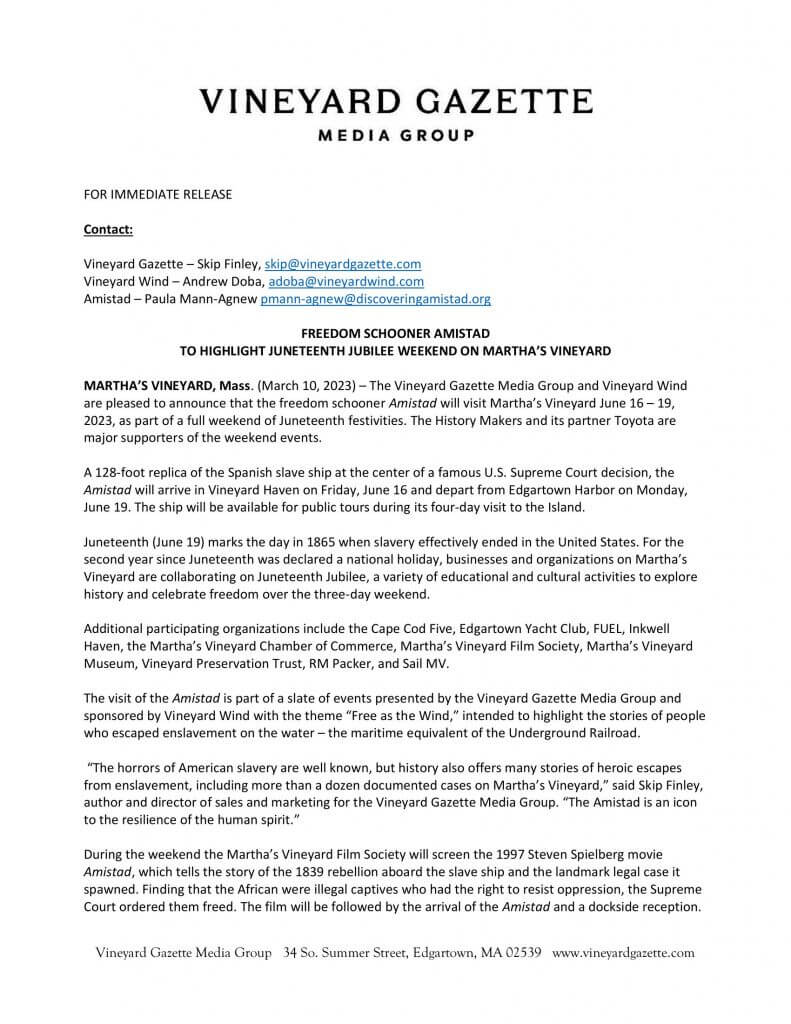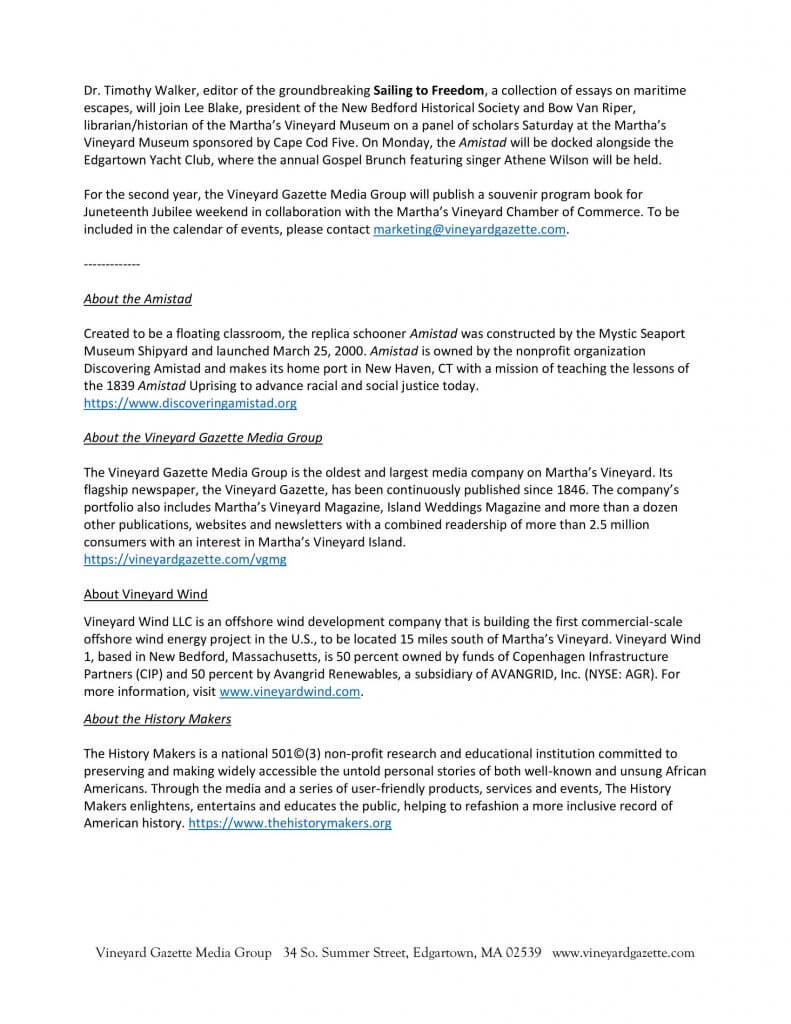 More to come!
Come back often to learn more about the many Juneteenth events happening on Martha's Vineyard, honoring the extensive Black history and culture of the Island.