Arts and Culture thrive on Martha's Vineyard. For years, all sorts of creative minds have found solitude and a place for reflection on the Island, inspired by the gorgeous scenery and relaxed way of life. Authors, painters, sculptors, photographers, dancers, actors, artisans, and filmmakers infuse the Island communities with a tangibly vibrant cultural life. More than a dozen public galleries display an eclectic mix of work by talented Vineyarders and internationally-renowned off-Island artists. Lose yourself in impressionist views of the ever-present sea and marvel at fanciful sculpture. You could spend weeks discovering all the art the Island has to offer, and more is being created all the time! Several artists and artisans open their studios, granting the public a first-hand look at their creative process, even offering courses and hands-on activities to inspire your own creative potential.
Aquinnah Cultural District
Vineyard Haven Cultural District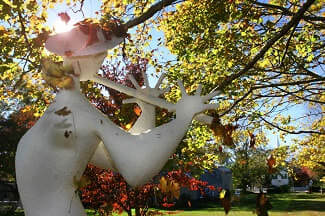 Classical and experimental incarnations of the performing arts also flourish here. Performances span dance, music, and theater in venues ranging from a large performing arts center to more intimate stages across the Island. Many playwrights and directors often premiere their newest work on Vineyard stages.
​
Film is also a mainstay of Island culture, with two annual film festivals in March and in September. Two film societies on the Island express varied styles, and both also often invite filmmakers to speak and inspire discussion at many of their screenings.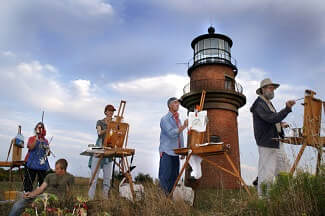 A Culture Shaped by Historic Traditions​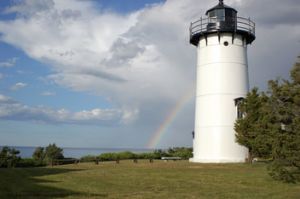 Alongside the Vineyard's rich arts scene are traditions stretching back 10,000 years. Descendants of the Island's earliest Wampanoag inhabitants preserve their tribal culture at the Aquinnah Cultural Center. Stately mansions, built by intrepid 19th-century whaling captains who called Edgartown home, transport visitors to the days of New England's maritime glories. Discover these and other stories at the Martha's Vineyard Museum and Edgartown's Carnegie Museum as well as in several historic houses, and the Island's five lighthouses.
A diversity of cultures and lifestyles forged, and continues to shape, communities on Martha's Vineyard. During and after the Great Depression, African Americans came here seeking economic independence. Visit landmarks of their story along the African American Heritage Trail. Faithful followers of the Methodist Camp Meeting brought bright colors and life to Oak Bluffs with their whimsical "Gingerbread Cottages," constructed at the height of the revival's popularity in the late 1800s.
Fall for the Arts​
Each fall, Martha's Vineyard, along with Cape Cod and Nantucket, dedicates the entire month of October to a celebration of the arts. Fall for the Arts strives to initiate and sustain conversations among artists, patrons, and the public.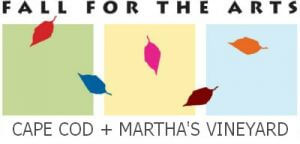 ​Fall for the Arts runs throughout the month of October, drawing visitors to enjoy the as-yet under-appreciated autumn "shoulder season," when temperatures cool slightly, and the largest crowds disperse, making for a more tranquil Vineyard experience. Galleries and studios stay open for the Festival, and signature events unique to the Island take place every weekend. Among these, the Vineyard Artisans Festival showcases varied handicrafts made on the Island. The culinary arts also figure prominently, with the "Art of Chocolate" at Featherstone Center for the Arts and the Food & Wine Festival. The month concludes with Art*Island, a festival of arts & ideas.