2023 PRIDE on Martha's Vineyard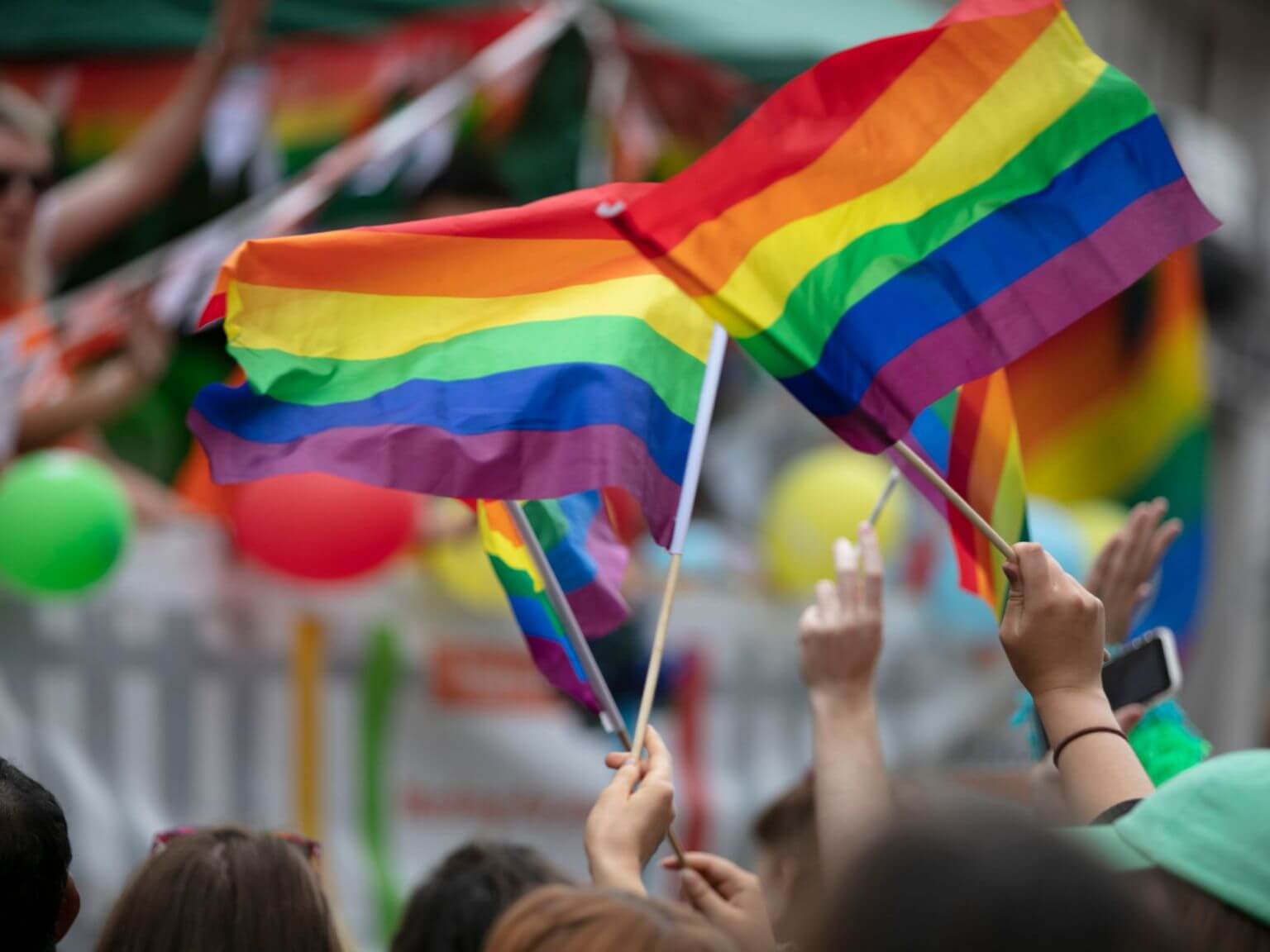 Each year in the month of June, Martha's Vineyard comes alive with the spirit of pride as it hosts a series of events and celebrations to honor the LGBTQ+ community. This month has an array of exciting pride events that will leave you feeling inspired, uplifted, and proud. In this event guide, we will provide you with all the information you need to make the most of Martha's Vineyard's upcoming pride celebrations. From island-wide events to Martha's Vineyard's 2nd LGBTQ+ Pride Weekend, there is something for everyone. So mark your calendars and gather your friends!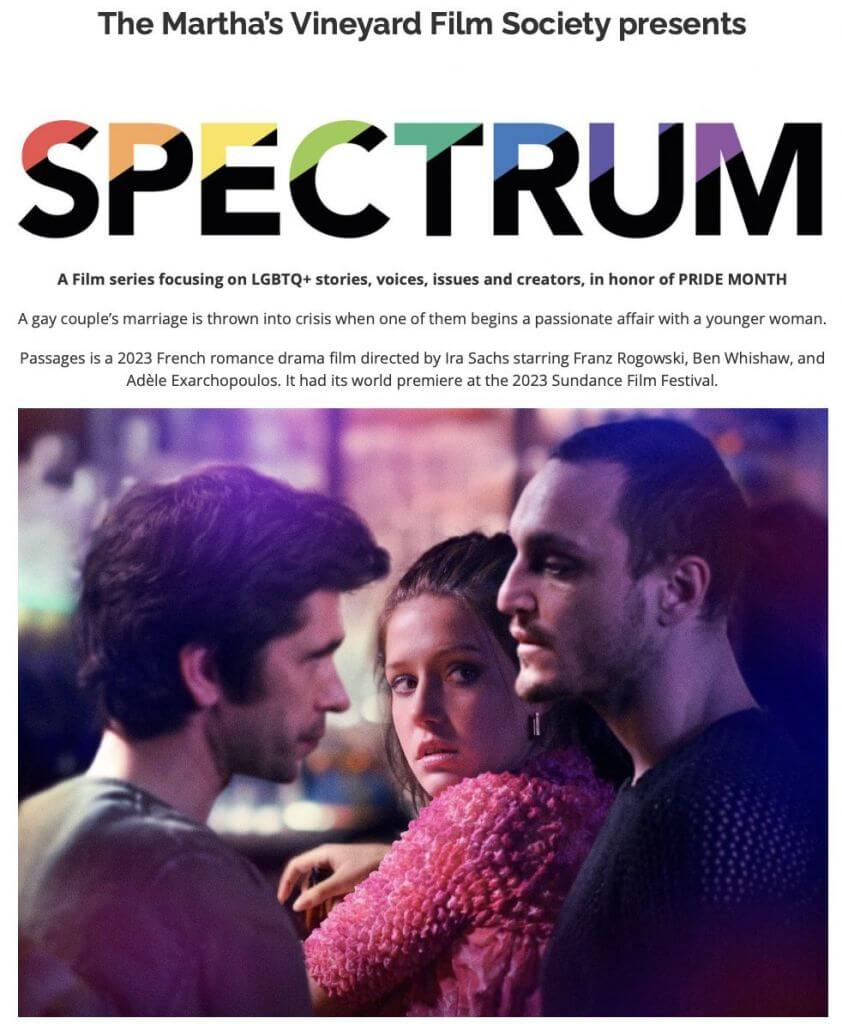 Martha's Vineyard's LGBTQ+ Pride Weekend is a joyful celebration that aims to promote acceptance, unity, and inclusivity. The weekend is packed with exciting events that cater to people of all ages and backgrounds. Let's explore some of the key events: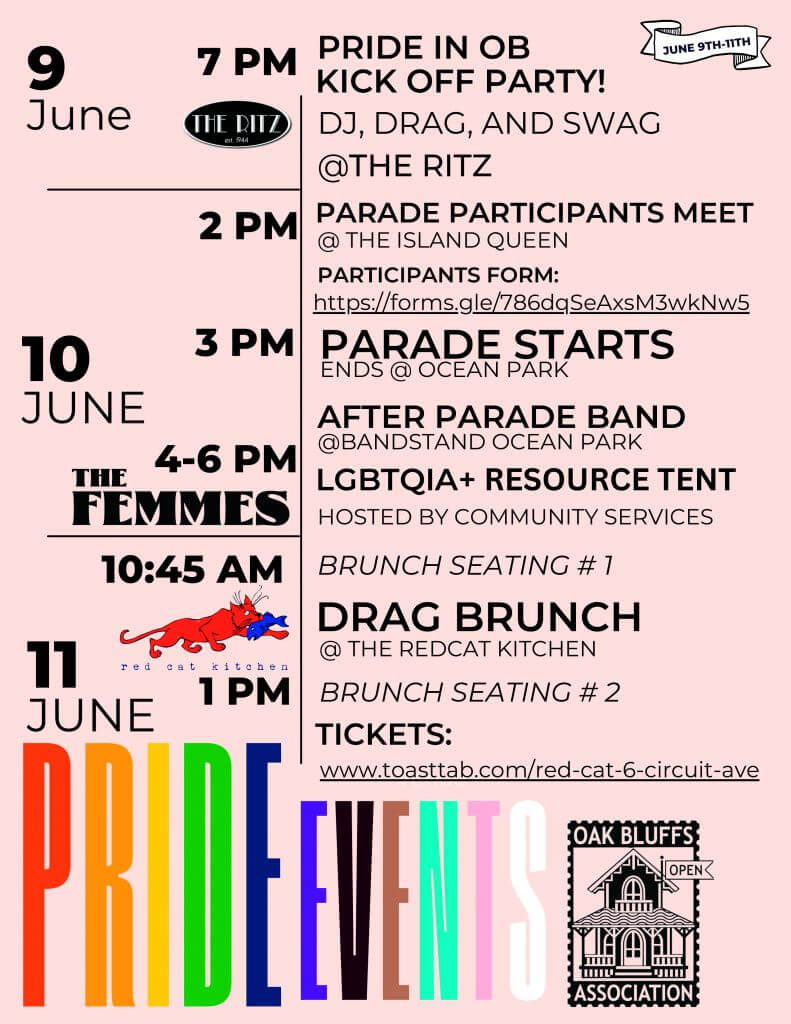 Kick Off Pride Party
To kick off Pride weekend in Oak Bluffs, the Ritz will be hosting a pride party! With live music, drag, and swag, this is a festive and fun way to kick off the weekend! You can visit the Ritz on Circuit Avenue Oak Bluffs, and the party starts at 7pm on Friday the 9th.
Pride Parade
On Saturday June 10th, the Pride Parade is a dazzling spectacle of color, love, and solidarity. The parade will start at 3pm, and parade participants are meeting at the Island Queen around 2pm. (Please note: some streets in Oak Bluffs will be closed between 3-4pm). Local residents, visitors, and LGBTQ+ allies gather to march through the streets of Martha's Vineyard, showcasing their pride and support. The parade is a powerful symbol of unity and a visual representation of the island's commitment to inclusivity. Adding to the lively ambiance, a marching band joins the festivities, filling the air with music, energy, and excitement. The parade can be viewed on Circuit Ave!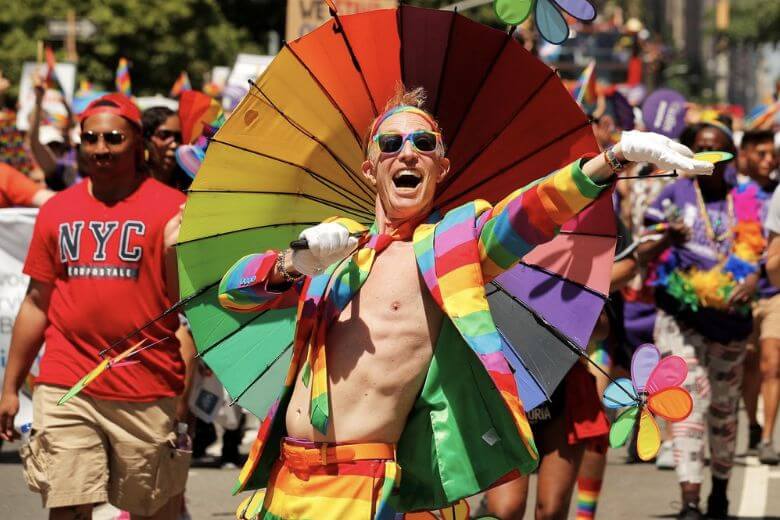 Town-Wide Decorations
During the Pride Weekend, Martha's Vineyard transforms into a vibrant canvas of rainbow colors. Local businesses, shops, and residences proudly display rainbow flags, banners, and decorations, creating an atmosphere of acceptance and celebration throughout the island. To show your support, wear your rainbow colors this weekend, or all month!
LGBTQ+ Funk Band
Music is an essential component of any pride celebration, and Martha's Vineyard's Pride Weekend is no exception. The Femmes are an all-woman and non-binary band specializing in songs by female and non-binary artists, and they will be taking the stage in Ocean Park right after the parade from 4-6pm! The band's soulful tunes and infectious rhythms provide the perfect backdrop for the festivities, encouraging everyone to let loose and enjoy the moment. Grab a blanket and a bite to eat from one of the many restaurants in town, and enjoy the music from the park!
Take Pride In Comedy Show
The Strand Theatre has joined in for Pride Weekend in Oak Bluffs by hosting a new comedy show. There will be a comedy performance by Damon Williams and a musical performance by Autumn Lakes to celebrate pride. The show is at 7pm on Saturday June 10th and tickets can be purchased for $25 here. 
Drag Queen Brunch in Oak Bluffs
One of the most anticipated events of the weekend is the Drag Queen Brunch in Oak Bluffs. Hosted at the newly relocated Red Cat Kitchen on Sunday morning, this event combines fabulous drag performances with a delectable brunch menu. Attendees can revel in the artistry and charisma of the drag queens while indulging in a delicious meal. It's a unique and unforgettable experience that showcases the intersection of culture, entertainment, and culinary delights. Purchase your tickets for the 11am show here or the 1pm show here.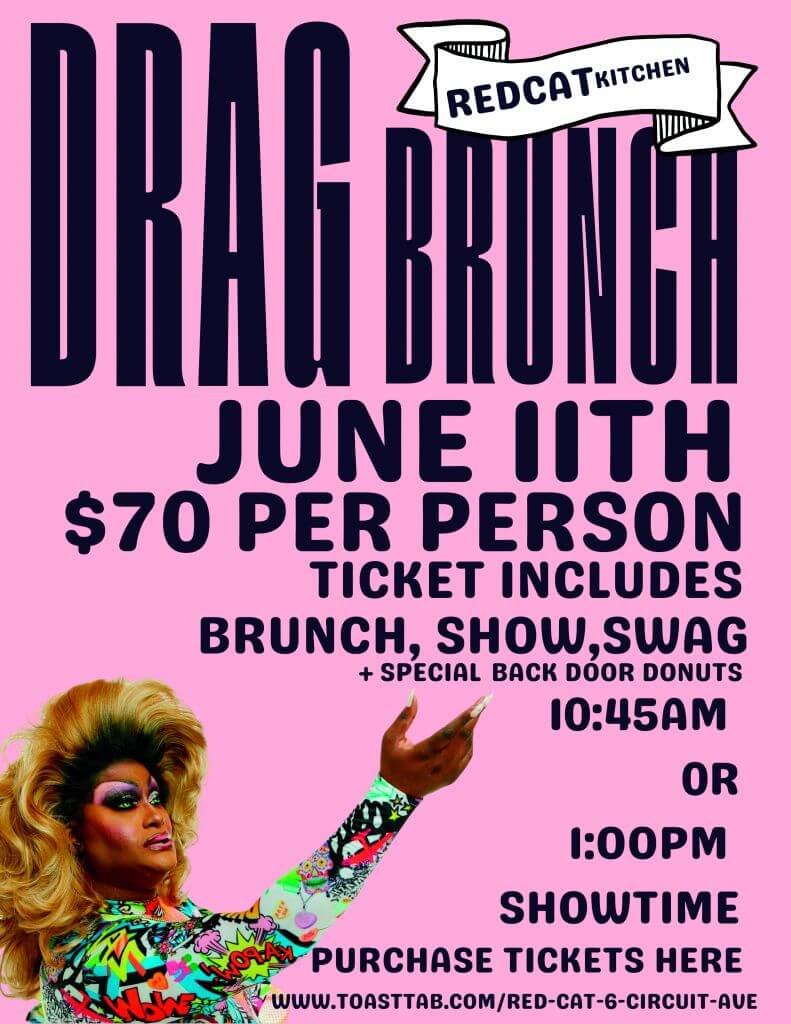 Other island wide events 
Already past us this month are the Nature Inspired Drag show hosted by Felix Neck along with their Beers and Queers after party, and the flag raising ceremony at First Friday hosted by the Vineyard Haven Business Association. But don't worry, there are still other events this month that you can participate in. The Martha's Vineyard Film Society is hosting a month-long pride film series called Spectrum. This series focuses on LGBTQ+ stories, voices, issues and creators, and you can learn more about the films and buy tickets on their website. Also coming up is the LGBTQIA+ book club at the West Tisbury Library, at 5:30 pm on June 28th. We want to say a big thank you to Queer Hub MV for being a resource and partner on all of the island's events happening during Pride Month. You can view their regularly updated pride calendar here to make sure you don't miss anything. 
Martha's Vineyard's 2nd LGBTQ+ Pride Weekend is a testament to the island's commitment to inclusivity, diversity, and love. From the vibrant Pride Parade to the town-wide decorations, the Marching Band and live music performances, and the Drag Queen Brunch in Oak Bluffs, this weekend is filled with joy, acceptance, and celebration. As you plan your visit to Martha's Vineyard from June 9 onwards, be sure to check out the MV Chamber of Commerce's website for a comprehensive list of island wide events. Embrace the spirit of pride and join the island in honoring and supporting the LGBTQ+ community.