Where to Get a Drink on Martha's Vineyard
Disclaimer: Please drink responsibly. This content is intended for an audience of 21 and older. 
When you think of Martha's Vineyard, what do you think of first? If you're new to Martha's Vineyard, you might assume that the Island is famous for its wines and vineyards, however that couldn't be farther from the truth. The Island does not, in fact, have any vineyards anymore, and also has some pretty unique liquor laws for a vacation destination in Massachusetts. 
Don't let that last sentence scare you though, there is plenty of vibrant nightlife that you can find across the Island for a vacation filled with mingling, dancing, and good spirits! If you're staying in towns such as Oak Bluffs or Edgartown, you'll have no issues finding a great bar or lounge to spend your evening, or if you'd rather party at home responsibly, there's also a handful of package stores (what we in New England call your usual liquor stores) at your fingertips. However, if you find yourself staying in towns like Vineyard Haven or Chilmark, your options for a night out may be more limited.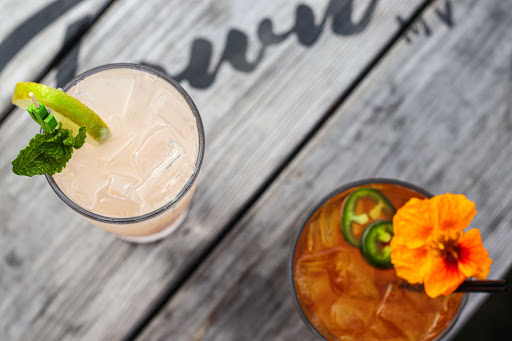 Town Bar & Grill
Edgartown: This beautiful harbor town is one of two "wet" towns on Martha's Vineyard. There are plenty of places downtown and in the surrounding areas where you can find a delicious cocktail, a cold beer, and a handful of liquor stores. It's a fun place to bar hop, because each of the town's bars are so vastly different. If you're looking for a casual and lively spot to spend an evening, Town Bar & Grill is a great place to stop. It's just a few minutes away from downtown, they serve a great variety of creative comfort food and fresh sushi, and the atmosphere is very unique! With a large menu full of seasonal craft cocktails and draft beers, there is a little something for everyone at Town.
If you'd rather spend your time in an old school bar, The Wharf should definitely be on your Martha's Vineyard vacation bucket list! This cozy downtown pub is known for its beers on tap and delicious bar food. With its perfect location on Main Street, it's a great place to take a breather after a day full of shopping or sitting at the beach. Don't miss out on their live music nights either! 
Looking for something more upscale? Alchemy Bistro & Bar is an elegant and charming restaurant in downtown Edgartown that has won best cocktails on Martha's Vineyard every year since 2014, and their extensive wine list should not be overlooked.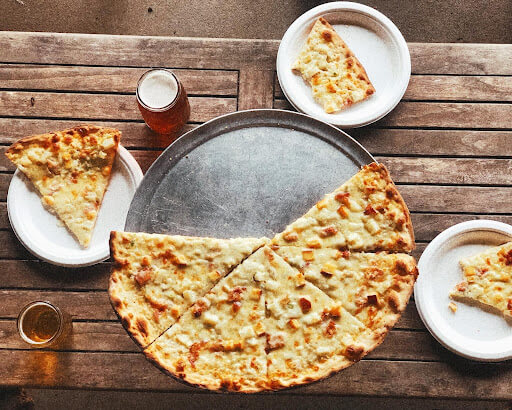 Bad Martha Farmer's Brewery
Just outside of the downtown area of Edgartown sits Bad Martha Farmer's Brewery, a local brewery that makes fresh beer daily! Consider giving their Martha's Vineyard Ale a try, or maybe their Long Point Sumac Pilsner. If you're having a hard time deciding, they offer free samples and flight paddles, as well as brews by the glass or growlers to take home with you! 
Edgartown is also home to a handful of liquor stores should you have any interest in bringing some spirits back home with you. If you're staying downtown, Rosewater Wine & Spirits offers an intoxicating variety of wines, spirits and beers; along with provisions for every occasion. Just outside of the downtown area, you can find Al's Package Store and Your Market, both of which have a vast selection of spirits to suit your fancy. If you happen to be staying close to the Martha's Vineyard Airport, MV Wine & Spirits is another great option.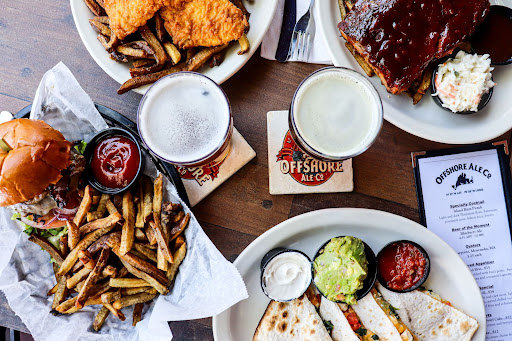 Offshore Ale Company
Oak Bluffs: Considered one of the more vibrant and upbeat towns on Martha's Vineyard, Oak Bluffs has a lot to offer when it comes to nightlife! There are a handful of bars to choose from, and almost every restaurant that you walk into has their fair share of alcoholic options. The Ritz Cafe is a great place to start. Located on Circuit Avenue, this historic dive bar is frequented by locals and visitors alike! Though it is a smaller venue, that doesn't stop it from being one of the hottest spots in town - it's a great spot for meeting new people and catching live music.
The fun doesn't stop there! The Loft is just steps away from the ferry and Ocean Park, and offers great nightclub vibes. This large venue is considered the biggest club on Martha's Vineyard, and hosts DJs and live music concerts regularly throughout the busy summer season. With a full bar and unique, energetic atmosphere, this is a great spot for those looking for a night full of dancing. 
One of the best things about Martha's Vineyard is the stunning ocean views, and Donovan's Reef at Nancy's has some pretty perfect sights of Oak Bluffs Harbor. This small outdoor bar brings a whole lot of character to this side of Oak Bluffs, and the outdoor seating is a hot commodity! You must try their signature drink, the Dirty Banana. It's a magical frozen concoction of chocolate, banana, and spirits that is just too good to miss out on! But, if that's not your cup of tea, there are plenty of delicious drinks available, and if you're feeling hungry, Nancy's Snack Shack is just next door. 
Maybe the hustle and bustle of the last few bars just aren't your vibe. If you're looking for something more casual, Offshore Ale Company is a great spot to hit. This welcoming year-round brew pub is loved by both locals and visitors, and for great reason. Their bar features nine beer taps which rotate seasonally through twenty or so styles, including their very own brews, such as the Lazy Frog IPA or their dangerously drinkable Blue Lobster Belgian Strong Ale. Their menu ranges from thin crust pizzas to seafood dishes, and during the summer months, their outdoor beer garden is the perfect place to soak up some sun. Plus, all their beers are brewed right on the Island, so you know you're drinking local!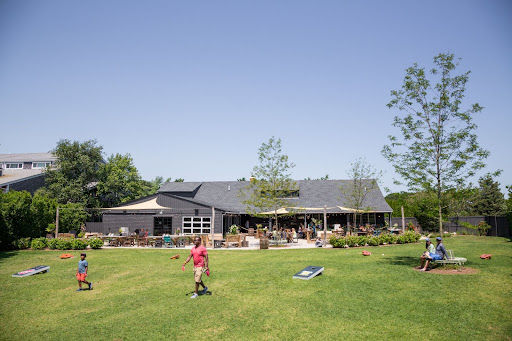 Noman's
While we're on the topic of the great outdoors, Noman's is a seriously fun spot for adults and children alike. With a full bar featuring house rum and a lawn filled with jenga, cornhole, and live music, Noman's provides an exciting experience for just about anyone looking for a good time. Their menu consists of a variety of creative casual fare, and the best part is - they're dog friendly! 
Oak Bluffs is also the only other town on Martha's Vineyard where you can find a liquor store. So just keep in mind for your next vacation that if you plan on bringing booze back to your hotel, rental, or otherwise, that you must make a stop in either Edgartown or Oak Bluffs. On the Oak Bluffs Harbor, you can find Our Market. This large liquor store offers fine wines, beer, spirits, essential groceries, and delivery to all island locations. Downtown, you can also find Jim's Package Store, as well as Vineyard Wine & Cheese Shop. If you're staying on the outskirts of Oak Bluffs, it may be worth hitting up Tony's Market, which offers a vast beer and wine selection. 
Vineyard Haven: You may find yourself in the charming town of Vineyard Haven after stepping off the ferry. While this town may not be best known for its nightlife, that doesn't mean you won't be able to find a refreshing drink here after the long ferry ride. Before this year (2023), you were required to purchase a meal if you had any interest in ordering a drink at any of the town's many restaurants. However, the laws changed as of December 2022, and now you can grab a cocktail right off the ferry if you so wish, no meal required!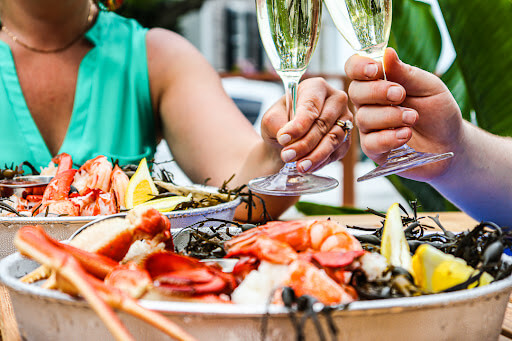 Fish MV
Head over to Main Street for delicious creative cocktails and stunning ocean views at Fish MV, a fresh seafood restaurant with a vibrant menu. Their covered porch is the perfect place to relax after a long day, and who wouldn't want to indulge on some of the Island's freshest oysters with a watermelon margarita?! 
If you're looking for a place right on the ocean, the historic Black Dog Tavern is a must-stop. Considered an Island staple by both locals and visitors, the Black Dog Tavern offers incredible views of the water from its rustic dining room, as well as a full bar serving craft wines, beers, mules, and cocktails. They also serve casual but creative cuisine in large portions at a great price! 
Planning a formal sit-down dinner? Beach Road is the perfect spot for just that! This inviting contemporary canteen offers stunning views of Lagoon Pond, and features craft beers, wines, and unique cocktails on the menu. The warm and welcoming atmosphere within the restaurant makes for a romantic night out, and their seasonally inspired menu features some of the freshest local ingredients the Island has to offer.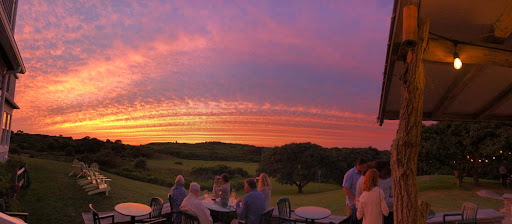 Outermost Inn
Up Island: The towns of West Tisbury, Chilmark, and Aquinnah make up what is considered "Up Island" by many locals and visitors, and these towns would be considered "dry" or "moist" in terms of alcohol sales. West Tisbury is an agricultural town which neighbors Vineyard Haven, and here you can find the iconic State Road Restaurant. This contemporary tavern serves an extensive list of wine and beer from around the world, alongside their locally sourced, scratch-made seasonally focused dishes. If you happen to be in the area, State Road is a must-stop for wine enthusiasts and lovers of creative and thoughtful cuisine. 
Chilmark may be a dry town, but that doesn't mean you can't have fun here! Many of the town's restaurants encourage BYOB, including Chilmark Tavern which can be found on State Road. You heard that right, it's a tavern in a dry town, and they are happy to mix your drinks for you with the bottle you bring! They create some delicious mixers with fresh herbs and juices, so you'll be sipping on something delicious in no time. Their outdoor patio in the summer makes for an unforgettable and romantic dining experience, so even if it's out of the way, it's worth the trip! Chilmark also doesn't have any open container laws set in place, making the town the perfect place to enjoy a bottle of wine on the beach with some friends.
Aquinnah is considered one of the most beautiful towns to visit on the Island due to its iconic clay cliffs, unique landscape, and magical sunsets. One of the best spots to soak up those views is Outermost Inn. This spot features panoramic views of Aquinnah, and also has an extensive wine and beer list. In the summer months, they often host prefixed three course dinners and raw bars. 
No matter where you end up staying on Martha's Vineyard, it's not too hard to find a good drink, it just depends on what you're looking for. Also, most restaurants and bars have slowly been adding zero proof cocktails to their menus as an offering for those that don't drink, so consider sipping a little bit of both to try new things out. Consider branching out to some of the other Island towns during your next visit for a different nightlife experience, each town has something unique to offer. And as always, drink responsibly and call a local cab or Uber if you're out on the town drinking or have a designated driver set up to bring you back to your vacation rental or hotel.