A Delicious Guide to Eating New England Favorites on Martha's Vineyard 
New England cuisine is often considered delicious for a few reasons and today we are sharing not only what makes New England cuisine incredible, but we are detailing a top ten list foodie guide to where to eat New England classic on the island of Martha's Vineyard, MA. 
One of the first reasons that New England has an incredible culinary history is that it is known for its abundant coastline, which provides access to a wide variety of fresh seafood. Lobsters, clams, oysters, and fish are caught daily, ensuring the availability of high-quality, flavorful ingredients.
Pair that with the fact that New England cuisine has a rich culinary history rooted in tradition and many recipes have been passed down through generations, maintaining their authenticity and unique flavors. On Martha's Vineyard, you can see that shine through on menus with Portuguese, Wampanoag, and Brazilian inspired dishes. 
But what makes dining on Martha's Vineyard extra special as a highly sought out New England destination is that the Island embraces the flavors and diversity of each season, resulting in fresh and vibrant dishes. 
Overall, the combination of fresh seafood, traditional recipes, seasonal ingredients, farm-to-table practices, cultural influences, culinary innovation, comfort food appeal, and the pride and passion of New Englanders contribute to the incredible cuisine offered here. 
Without further ado, we present our top ten list of where to eat New England classic dishes on Martha's Vineyard! 
Lobster Rolls: A classic New England dish, a lobster roll typically consists of chunks of fresh lobster meat mixed either with mayonnaise (cold) or with hot drawn butter (warm)  and served in a grilled split-top bun. On Martha's Vineyard, you'll find some award-winning and delicious lobster rolls at Waterside Market, Edgartown Seafood Market, Farm Neck Restaurant, Fat Ronnie's, and John's Fish Market.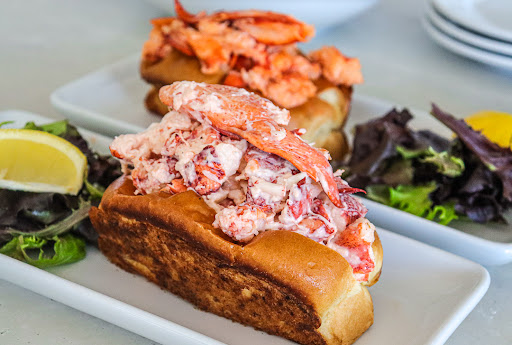 Clam Chowder: A creamy soup made with fresh clams, potatoes, onions, and bacon, New England clam chowder is a beloved regional favorite, and many restaurants on the Island serve it by the cup or bowl, with some creative takes such as Chowder Fries at the Wharf Pub in Edgartown. Our top favorite cups of New England Clam Chowder on Martha's Vineyard can be found at the Newes from America, Katama General Store, and Martha's Vineyard Chowder Company.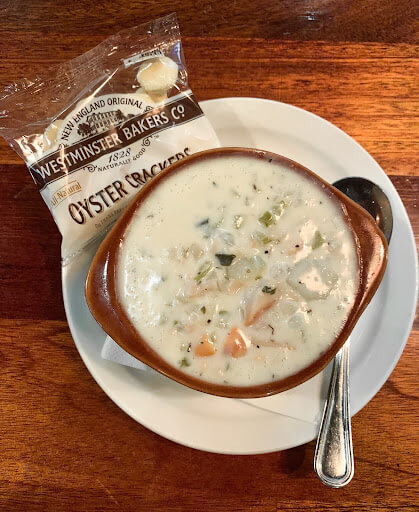 Fried Clams: Fresh clams dipped in batter and deep-fried to perfection, served with tartar sauce and lemon wedges are an absolute summer favorite and can be found right on the Oak Bluffs Harbor at Coop de Ville. 
Steamed Lobster: Enjoy a whole lobster steamed to perfection, served with melted butter for dipping. It's a quintessential New England dining experience and we love going up island to enjoy a Menemsha sunset with a steamed lobster drenched in butter from Menemsha Fish Market or Larsen's Fish Market. If you're looking for a creative lobster dish down-island, make sure to get reservations at Atria in Edgartown for their spectacular Wok Fried Lobster dish.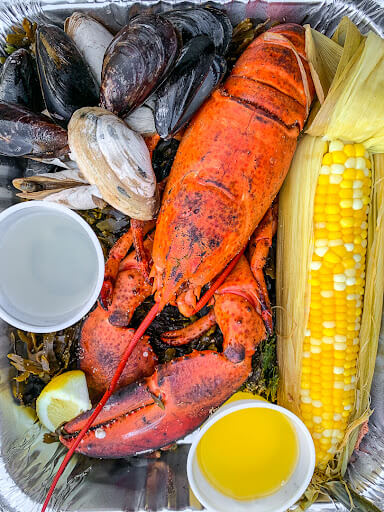 Clam Cakes: Crispy deep-fried dough balls mixed with minced clams, onions, and spices, clam cakes are a tasty appetizer or snack commonly found in coastal areas. Known mostly in the Rhode Island area, these are delicious snacks that can be found at John's Fish Market in Vineyard Haven. 
Stuffed Quahogs (stuffies): large clams (quahogs) are chopped and mixed with onions, peppers, bread crumbs, herbs, and linguica sauce for a great appetizer. Plenty of restaurants make this dish on island but the best ones can be found at the local Island fish markets, each of them making this recipe their own. 
Oysters: Oysters are popular on Martha's Vineyard and for good reason - we have a variety of oysters and oyster farms on island, as well as restaurants that support them by showcasing them on their menus.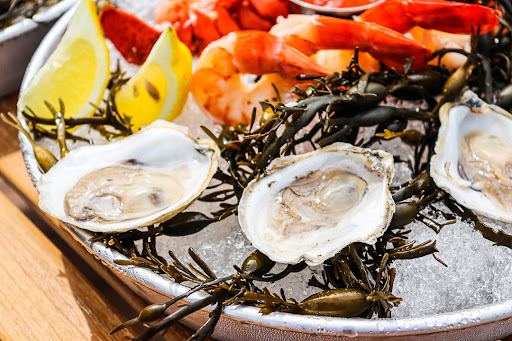 Blueberry Pie: New England is known for its wild blueberries, and a slice of homemade blueberry pie, with a flaky crust and juicy blueberry filling, is a delightful treat. Grab a slice or a full pie at Pie Chicks in Vineyard Haven, Morning Glory Farm in Edgartown, or at Reliable Market in Oak Bluffs who carries Eileen Blake's Pies, an Island staple. 
Maple Syrup: While not a food item on its own, New England is renowned for its maple syrup production. Drizzle it on pancakes, waffles, or French toast for a sweet and authentic taste. On Island, not only can you find the usual pancakes to drizzle pancakes over and for that, we do love a stop at Linda Jean's or Little House Cafe, but if you're looking to stop your vacation rental pantry with pure maple syrup, markets like Edgartown Meat and Fish, as well as The Larder offer a wide variety of syrups. 
Whoopie Pie: A classic New England dessert, whoopie pies consist of two soft chocolate cake-like cookies sandwiching a sweet creamy filling, often made with marshmallow fluff. Stop into coffee shops such as Espresso Love in Edgartown for their whoopie pies and enjoy them with a fresh coffee drink on their patio. 
Apple Cider Donuts: These delicious donuts are made with apple cider and often dusted with cinnamon and sugar. They are a popular treat in the fall during apple-picking season but on Martha's Vineyard, this classic is given a twist and what travelers and locals alike line up for are Apple Fritters from the always popular Back Door Donuts! Other bakeries like Life at Humphrey's make delicious classic apple cider donuts during the season as well.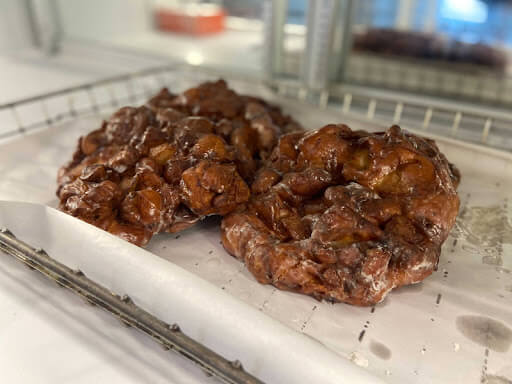 These food items represent some of the most popular and iconic dishes enjoyed throughout the New England region, and where to find them on Martha's Vineyard. Don't forget to check out the Martha's Vineyard Dining Sourcebook to plan your next foodie trip to the Island!