23 New Businesses on Martha's Vineyard to Support in 2023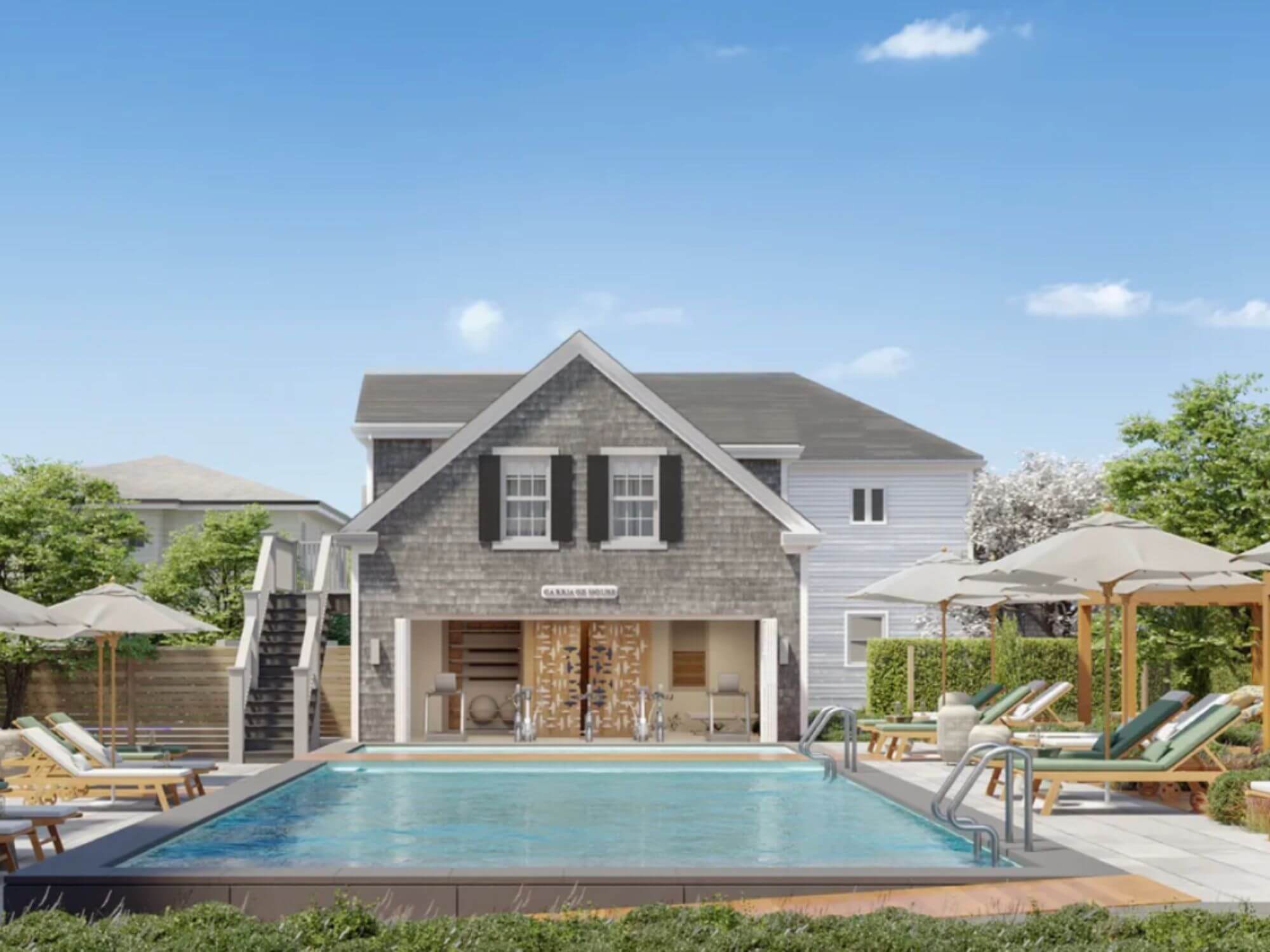 As the summer season kicks off on Martha's Vineyard, we're making a list and checking it twice, of all the new businesses we want to support this season. Every year, more and more local business owners develop new and exciting offerings for the Island and every year, we are thrilled to see these businesses come to life. 
Supporting local small businesses on Martha's Vineyard is crucial because it helps foster economic growth within the Island community and preserves the unique character and charm of our local neighborhoods and towns. Additionally, it creates job opportunities and allows for personalized customer experiences that cannot be replicated by larger corporations, which are basically non-existent on this island.
Here are the 23 New Businesses on Martha's Vineyard to Support in 2023: 
1.Attic at Waterside
The Attic at Waterside is the newly renovated space above Waterside Market, previously La Soffitta, that will become a favorite new dining spot on Martha's Vineyard. Step into a modern, Prohibition-era dining room complete with rum-runner snapshots on loan from the Martha's Vineyard Museum - make sure to ask them about the history of the island during those thirsty times. Elevated tavern-style restaurant menu, with a focus on the quality and consistency you've so much loved from their sister properties, Waterside Market and Fish MV. 
2.  La Strada
From the owners of Salvatore's in Vineyard Haven comes La Strada (which means "the road" in Italian) also in Vineyard Haven. This 30-seat lunch focused restaurant will be serving inspired meals and we look forward to learning more about this operation as details come in. 
3. Mikado Hawaiian BBQ & Sushi
New to Circuit Avenue in Oak Bluffs is an expansion to Mikado in Vineyard Haven. This new location has been named to include Hawaiian BBQ as it will be one of their main focuses. This type of cuisine is new to the island and with Hawaiian being such a trending cuisine, we look forward to tasting their offerings. Find them at the location where Cardboard Box used to be. 
This new location of Catboat Coffee not only serves up delicious coffee drinks, but is the home to Epicure and MV Cheesery, brands under the same roof from the same family, all working towards a more delicious Martha's Vineyard! Epicure is an authentic Lebanese "farm to sandwich" food business serving up Lebanese-inspired treats, while MV Cheesery is a cut cheese counter and catering business providing deliciously composed cheese and charcuterie grazing boards. 
5. Ice Box Ice Cream shop
From the owners of the Toy Box in the Tisbury Marketplace comes an ice cream shop ready to serve Vineyard Haven and beyond! The shop is said to feature a rotating selection of 20 flavors with a grab-and-go cooler for drinks. 
Reimaged and relaunched as Faraway Martha's Vineyard, the historic Kelley House returns including The Newes From America and Pelican Club restaurants. This Edgartown landmark hotel will now feature a new guest-only pool, fitness center, jacuzzi tub, Snack Shack and a new luxury retail partner "Wheat". 
7. Blackbird Cafe
In 2022, Blackbird Cafe ran a food truck on Chappy but now they are bringing their wares to Edgartown, moving into the space where Murdick's Cafe used to be. Their breakfast and lunch offerings vary from sandwiches to coffees and pastries. 
8. Eleven Circuit
From the owners of Edgartown Diner, comes Eleven Circuit to take over the space where Flavors MV was located on Circuit Avenue in Oak Bluffs. Owner and chef Ralston Francis will be serving an all day menu of breakfast, lunch, and dinner, with extended hours for music and nightlife. 
9. Notalot Farm
Described as " the next best thing to an Oak Bluffs farmer's market" this market will have all your culinary desires and is centrally located on 28 Kennebec Avenue, we look forward to their official opening. 
This new courier service connects Martha's Vineyard to the mainland and will pick up and deliver things to and from! A much needed delivery service that works with the Patriot Boats to get your packages safely where they need to go. 
11. MVY Flight School
Looking to follow your dream of becoming a private pilot? Then train on Martha's Vineyard for your certificate, you won't find a more gorgeous location to do so than MVY. Brothers Evan and Zared Shai will be your instructors and get you the flight time needed, the ground school efforts, and time in the simulator. Get ready to make your flight dreams come true! 
12. Lower Deck Consignments
Consignment shops are such a great way to be sustainable in your clothes shopping while still supporting locals and this new shop located under Sea Spa Salon in Edgartown is just the perfect combination of local and shopping. 
13. Guy Benjamin Coffee
A new offering on island, Guy Benjamin Coffee not only provides event service from his mobile espresso bar, but also provides education through equipment consults and curated bean programs. Find him at pop ups around the island! 
14. Superar Strike
An athleisure and lifestyle brand that provides high quality, performance focused, stylish and premium activewear that inspires confidence, located in Oak Bluffs. If you're looking for activewear on the Island, this is where to find it at great prices, plus you can also shop online! 
New to the island is this mobile bar service that loves a good party. Their vintage vehicles are imported from Europe and reimagined as mobile bars to bring a fun and interesting way to pour your party cocktails (and even non-alcoholic brews!). A great way to serve up drinks at your next event. 
16. Martha's Vineyard Streetwear Co.
Upgrade your classic coastal Martha's Vineyard preppy vibes with an edgier, funner brand and sister company to Sideline in Vineyard Haven. This clothing brand is dripping with creativity and novelty, so make sure to check it out!
17. Edgartown Village Market 
The Edgartown Village Market is a biker and pedestrian friendly, open-air market in the heart of Edgartown's historic downtown. From farm fresh produce, flowers, and provisions, to one-of-a-kind artisanal goods, EVM is your one-stop-shop to meet our local growers and makers and take home a real piece of the island.  A few vendors have been announced and include: Katie Leaird Food, Lightship Bracelets MV, Avery Schuster Art, Signature Oyster Farm, Chappaquiddick Wood Company, and Chappy Chips.
18. Lilikoi Cafe
Serving specialty coffee & espresso based drinks, full service poke & acai bar, smoothies, organic kombucha, adaptogen beverages & more, Lilikoi Cafe is a new offering at the Triangle area in Edgartown. 
19. On Time Catering
A new catering company brought to you by the owners of Tigerhawk in Oak Bluffs, they pride themselves in highlighting the best and freshest ingredients from the local community of farmers, fishermen, and artisans on Martha's Vineyard, while creating an exquisite dining experience and contributing to a sustainable and socially responsible community. 
20. Radio Farm
Radio Farm takes pride in their passion for linking art and farming. Every seed is sowed with an artful expression in mind. The farm exhibits artistic installations all around the grounds. Chess boards jut out from the ground on native black locust posts for all to enjoy. Around every corner is a new discovery. Their intention is to make a lasting impression on their visitors through a whimsical childlike wonder. No matter your age, Radio Farm will allow you to tap into your inner child, to embrace a sense of curiosity and spontaneity.
21. Spatroxs
A complete one stop shop for private oysters, they  offer private raw bar services for all kinds of events! Their services include helping you source oysters both locally and beyond, as well as oyster shucking lessons, raw bar rentals, and even event and wedding consults. 
22. Midnight Taco 
Looking for coastal-inspired Mexican food and a rotating menu of favorites from the Midnight Train Food Truck? We;; you're in luck because this business has been reimagined and will be serving up delicious bites all summer long in Oak Bluffs! 
23. Social Coast Mobile Bar 
Another great option for events happening on island, this new business will be a full service event bartending and cocktail making classes. With over 10 years of consulting services, they are ready to serve your event with cocktails and mocktails galore.