Save the Date: Major Martha's Vineyard Events for 2023!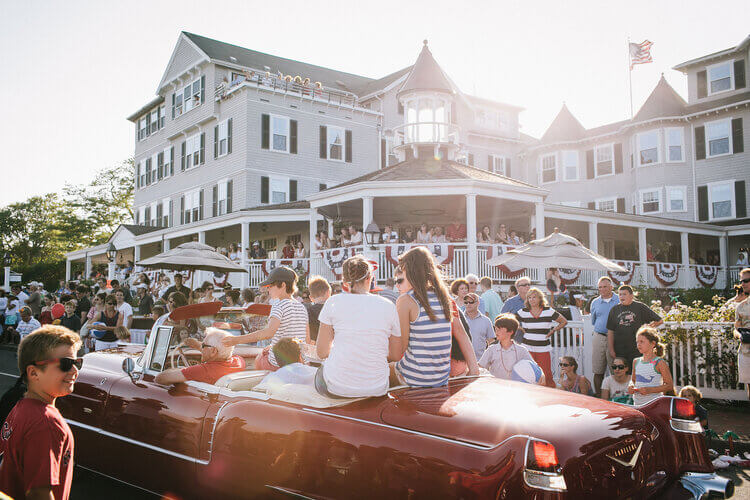 The year 2023 is shaping up to be an event-packed year on Martha's Vineyard and we wanted to make sure that we were keeping you in the loop of (almost) everything happening on the Vineyard. Below you'll find a list of major annual events that kick off as soon as next week and culminate with holiday traditions at the end of the year. 
Because Martha's Vineyard is a year-round destination, you'll see that every month of the year is packed with things to do, places to visit, and new experiences to have on the Island. We hope this list of events gives you a bird's eye view of everything happening, so that you can enjoy and possibly extend your time on Martha's Vineyard - because if you're already coming for an event on Friday, might as well stay for the events happening the next week as well! 
Remember to book your hotel and check out the Martha's Vineyard Lodging Association for tons of great information on where to stay while visiting the island and attending events. 
March 22 - 26 Annual Martha's Vineyard Film Festival; TMVFF / Circus Arts
This will be the festival's twenty-third year! Join them at their West Tisbury campus for five days of screening in the Circuit Arts' home theater on the second floor of the Grange Hall, among other locations. This year's program reflects their mission to connect the arts with the Island community. Each film explores the complex relationship between individuals and their communities. Buy tickets here. 
April 22 - Annual Earth Day Beach Clean Up and First Ever Earth Day Festival
Join the Vineyard Conservation Society for their Annual Earth Day Beach Clean Up - plus they will be holding their first annual Earth Day Festival at the MV Museum. Sign up to volunteer here. 
April 29 - MS Ride the Vineyard
Join this ride on the beautiful island of Martha's Vineyard! Enjoy the scenic views and ocean air as you cycle through one of America's favorite vacation spots along with a community of riders dedicated to changing the world for people with MS. Feel the extraordinary support and excitement throughout your journey as you come together to reach the goal—a world free of MS. 
April 29 - Island Alpaca Shearing Day
Every year, the herd of alpacas at Island Alpaca are up for their annual pre-summer grooming, and everyone in the community is invited to watch them being shorn. Over 35 alpacas get this beauty treatment on this day, and it will be available for public viewing. 
May 7 - Climate Action Fair
The Island Climate Action Network seeks to coordinate and galvanize the creativity and will of our community to create a resilient Martha's Vineyard, prepared to manage the local impacts of climate change and eliminate our carbon footprint. Discover more of their action week online here. 
May 12 - 14 - Mother's Day Weekend in Edgartown 
This annual celebration of spring and Mother's Day in Edgartown is not to be missed. Enjoy a weekend full of activities - from their 5k fun run/walk and horse drawn carriage rides, as well as sipping, shopping & eating your way through town!  This is the perfect way to kick off the spring season on the Vineyard.  
May 20 - MV Marathon and ½ Marathon
For the runners in your life, experience a beautiful marathon experience on Martha's Vineyard. There will be a ½ marathon, a Boston qualifier full marathon, and a two-person half marathon relay race. The perfect weekend to get those miles in to practice for other marathons as well! 
May 25 - 28 - Environmental Film Festival, MVFS & VCS, MV Film Center
This festival focuses on environmental issues tackling our everyday life. Discover this incredible festival, its mission, and connect with community members working hard towards improving our world. 
May 27 & 28 - Vineyard Artisans Memorial Day Festival
If you're looking for handmade and locally made art and items, the Vineyard Artisans' kick off festival on Memorial Day is the place to be. Local artisans from all over the Island showcase their wares: artwork on canvas, pottery, paintings, local food products such as honey and coffee, clothing items, and much more. 
June 3 - MV Land Bank All Island Hike
A hike that has taken place since 1993, which the land bank has observed as National Trails Day by conducting a day-long hike across the Island, through conservation lands, public properties, dirt and paved roads, shorelines, steep grades, and stretches through private property that has been graciously permitted to walk through on this day. 
June 2023 - Spectrum LGBTQ Film Festival, MV Film Center
Spectrum is a three-day film festival that presents a world perspective on LGBTQ+ stories, people, and issues through a variety of films and includes guest speakers, discussions,  and a special event for LGBTQ+ youth. 
The first and only festival of its kind on the Vineyard, the SPECTRUM Film Festival adds to the Film Society's consistent efforts to broach subject matter not usually covered by major Hollywood motion pictures. The Festival draws moviegoers from the Cape Cod & Islands as well as the greater Boston area.

June 10 - LGBTQ+ Pride in OB 
From a fabulous parade to drag queen brunches, this is a great time to be in Oak Bluffs and be an ally. 
June 15 - Taste of the Vineyard Gourmet Stroll
Taste of the Vineyard, or "The Taste," as it is affectionately known, is one of the most anticipated events on Martha's Vineyard. Thirty-seven years ago, The Taste was started as a fundraiser for the restoration of the newly acquired Flying Horses Carousel. More potluck than posh, this small event has grown to be a grand two-night affair, kicking off the Vineyard's summer season.
The Taste is the Vineyard Preservation Trust's most important annual fundraiser. By attending, you are stewarding their work to preserve and care for the island's most iconic, historic landmarks. VPT is a 501 (c) (3) charitable organization, 50% of your ticket is tax-deductible.
June 15 - 17 - Edgartown Race Weekend
Edgartown Race Weekend ("ERW") is one of the nation's top regattas each summer on the island of Martha's Vineyard. A staple on the East Coast racing calendar, the highly-competitive race weekend includes both a series of coastal and offshore races including the centerpiece 'Round-the-Island competition, one of yacht racing's oldest distance events. Edgartown Race Weekend attracts teams of all sizes and calibers from around the U.S. and internationally.
June 17 - Oak Bluffs Harbor Festival
A great weekend on the Harbor to celebrate the season by shopping from loca markers and artists, enjoying local tunes, and eating and drinking to your heart's content on the gorgeous harbor of Oak Bluffs. 
June 17 - 19 - Juneteenth Weekend Celebration
The schooner Amistad, a replica of the historic ship that became famous after a group of enslaved Africans led a successful revolt and won their freedom in the U.S. Supreme Court, will drop anchor at Martha's Vineyard for Juneteenth weekend.
Organized by the Vineyard Gazette Media Group and sponsored by Vineyard Wind, the History Makers and Toyota, the Amistad's arrival on Friday, June 16 will kick off a packed, three-day holiday weekend of speakers and events with the theme of Free as the Wind, celebrating escapes from enslavement in America on the high seas. 
June 22 - 25 - Filmusic Festival, MV Film Center
Discover music through films, when the MV Film Center presents a long weekend of feature films and musical performances that celebrate the convergence of music, culture and film.

July 4 - Edgartown Parade and Fireworks
Enjoy the Edgartown 4th of July parade and spectacular fireworks  show overlooking the Edgartown Lighthouse & harbor!  The festivities kick off at 5pm with the parade and the fireworks start at dusk. It's such a fun day in Edgartown and one parade-viewers head into town early to claim their viewpoints early on for the best parade views! 
July 7 - 9 - Vineyard Cup Regatta
Hosted by Sail MV, a non-profit whose mission is dedicated to protecting and perpetuating the Island's maritime heritage, culture, skills, and the sea that surrounds us. This regatta is a must not miss for sailors on and off island! 
July 8 - Tisbury Street Fair 
Join locals and visitors alike for a fun-filled evening on Main Street Vineyard Haven for their Tisbury Street Fair. This block party happens every July and is host to delicious food offerings, amazing art from Island makers, tons of options for souvenirs, plus live music, games, and fun for the entire family! 
July 23 - Possible Dreams Auction 
Possible Dreams is Martha's Vineyard Community Services' largest annual fundraiser and gives people the opportunity to purchase unique on and off-Island experiences while giving back to MVCS. Possible Dreams is hosted by comedian, talk-show host and seasonal Island resident, Seth Meyers, who makes the afternoon exciting and fun while experiences are auctioned off to the highest bidder! 
July 31 - Aug 4 - MV Documentary Week, MV Film Center
Documentary films have become the conscience of the nation, providing a deeper study of contemporary, and often unnoticed, social issues. By using the unique medium of film, documentarians are able to cultivate a more compelling and fruitful discussion by mixing strongly-driven narratives with vivid imagery. In recognition of the rising importance of documentaries to public dialogue, the Martha's Vineyard Film Society is hosting its ninth annual Documentary Week from July 31 to August 4, 2023.
August 4 - 6 - Martha's Vineyard Book Festival 
This year, the book festival is back with a line up of the country's leading authors. Listen to your favorite authors in panels, discussions, and meet & greets all in the gorgeous setting of Chilmark. 
August 4 - 12 - Martha's Vineyard African American Film Festival
This nine-day event showcases the works of independent and established African-American filmmakers. A week filled to the brim with panels, celebratory events both during the day and night time, where connections are made, films are celebrated, and the community comes together to enjoy it all on the Island. 
August 12 - Chilmark Road Race
Since 1978, the Chilmark Road Race has been run along the beautiful but oh-so-hilly Middle Road on Martha's Vineyard. Proceeds from the race are donated to the Town Affairs Council to assist in the operations of the Chilmark Community Center and make scholarships to year round residents possible. If you're a runner that wants to challenge yourself, this is the race for you! 
August 16 - Grand Illumination Night
One of the most magical nights on Island, when Oak Bluffs' Gingerbread Cottages are illuminated with creative paper lanterns. A must not miss spectacle. 
August 17 - 20 - Martha's Vineyard Agricultural Society Fair
The fair has grown into a four day island institution. From humble origins as a single day exhibition showcasing livestock and the enterprise of everyday life, the Fair has grown into an Island institution. The token final hurrah of summer, it is the place where islanders of all ages gather to meet—and eat—in the heat.  
August 17 - 20 - Black Fashion Weekend
This fashionable weekend will take place at the Strand Theater in Oak Bluffs and will showcase black designers and black-owned brands from near and far. Stay tuned for more details. 
August 18 - Oak Bluffs Fireworks
Sponsored by the town of Oak Bluffs, this firework display kicks off around 9pm, or when fully dark out, and everyone sets up chairs and picnic blankets after 4pm on the Ocean Park lawns for viewing. 
August 25 - 27 - Beach Road Weekend
This three-day music festival will take place in Vineyard Haven and this year's lineup is fantastic! From Mumford & Sons to Leon Bridges and everything in between, make sure to secure tickets and hotels online for this quite popular weekend! 
September 5 - 10 - MV International Film Festival, MV Film Center
The Martha's Vineyard International Film Festival, now in its 17th year, is a celebration of cinema worldwide. The films they've gathered for you show the full glory of cinema arts. These films' bold imagery, creative storylines, and unique characters will wrap you in warm cinematic magic. 
September 9 - Martha's Vineyard Wind Festival (rain date September 10)
Enjoy a day that is still full of summer breezes! Bring a picnic and enjoy spending time with friends and family in beautiful Ocean Park on Martha's Vineyard. Events include kite making and model sailboat racing for children, and kite flying and frisbee games for young and old. 
September 10 - October 14 - MV Striped Bass & Bluefish Derby
Come to the Vineyard and Fish The Derby! For almost 8 decades, "The Derby" has been a time to renew friendships, share a hot cup of coffee and create memories that fuel the winter's exaggerated fish tales. It is a time for all to refocus on the natural beauty of this Island sanctuary. So come and join us, to experience great fishing, rich history, meeting new friends, and generous sponsor-donated prizes - all in support of their scholarship program! Remember: Registration is open throughout the Derby.
September 16 - Tivoli Day 
September 19 - October 15 - Bass In The Grass Auction
Bass in the Grass is an initiative by the Edgartown Board of Trade, in partnership with the MV Derby and local artists, to paint and decorate wooden bass that are then on display in Edgartown. These swimming masterpieces are then put up for auction, with half the proceeds going to the MV Derby Scholarship Fund and the other half to the local artist who created the fish. A great campaign that serves a variety of communities on the Island!
October 20 - 23 - Martha's Vineyard Food & Wine Festival
The flagship food, wine and drink festival of Martha's Vineyard, the MVF&W Festival stays rooted in the Island's rich tradition of farming and fishing, inviting you to meet local culinary talent, and the farmers, fishermen, oyster producers, and artisans they work with—adding guest chefs and vintners from around the world for a unique to the island celebration. On October 21st, they also host the Martha's Vineyard Brunch Run, a fun run for attendees! 
October 28 - Halloween in Oak Bluffs
A fun time to celebrate Halloween in the town of Oak Bluffs. Go trick or treating around homes and local businesses alike. 
Sunday, Oct. 29 - Happy Haunting in Edgartown
Downtown Edgartown dresses up in costume and local businesses give out treats like it's the business! A fun event for the whole family.
November 25 - Light Up Oak Bluffs
Get into the holiday spirit by kicking off the season in Oak Bluffs, with a tree lighting, local shopping, live music, and much more. 
Saturday, Nov. 25 - Small Business Saturday
Always a great day to support small and locally-owned businesses on island, this special day highlights the Island's own businesses that work hard year round to make the retail offered the best there is. 
December 7 - December 10 - 42nd Annual Christmas In Edgartown
Voted Best of the Vineyard for the sixth year in a row, Christmas in Edgartown is a weekend festival you don't want to miss! Every year through various events, Christmas In Edgartown helps raise over $50,000 for island-wide charities and nonprofits. Over 100 Edgartown and Island Businesses participate in the weekend festivities.