Coffee Shops on Martha's Vineyard: Where to Caffeinate This Season
If you're traveling to Martha's Vineyard, making sure you're well caffeinated is key to making sure you have a ton of energy during your vacation, so to make it easier on the traveler, we have created a list of almost every spot on Island where you can secure a hot or iced cup of coffee to get you going. The Island is home not only to some incredible coffee shops, but we also are home to local coffee roasters such as Chilmark Coffee Co., East to West Cofee Roaster, and Martha's Vineyard Coffee Company, so you're bound to leave home with a bag or two of freshly roasted coffee beans as well. 
Below you'll find a full list of spots where you can get a delicious espresso-based drink. We've also noted the places where you can get regular drip coffee, because we know coffee-lovers have preferences, and the Island has options. To keep everything organized, we've narrowed down the definition of a coffee shop below:
Below, a coffee shop is denoted because it must have an espresso machine to make espresso-based drinks. Notable mentions will be added at the bottom of each town section, for where you can get just a regular cup of drip coffee, hot or iced. 
Edgartown
Stop into this Edgartown staple for one of their classic blueberry muffins and try their Spanish Latte made with condensed milk, a truly delightful way to start the day. They also offer sandwiches and salads for lunch. Open Year Round.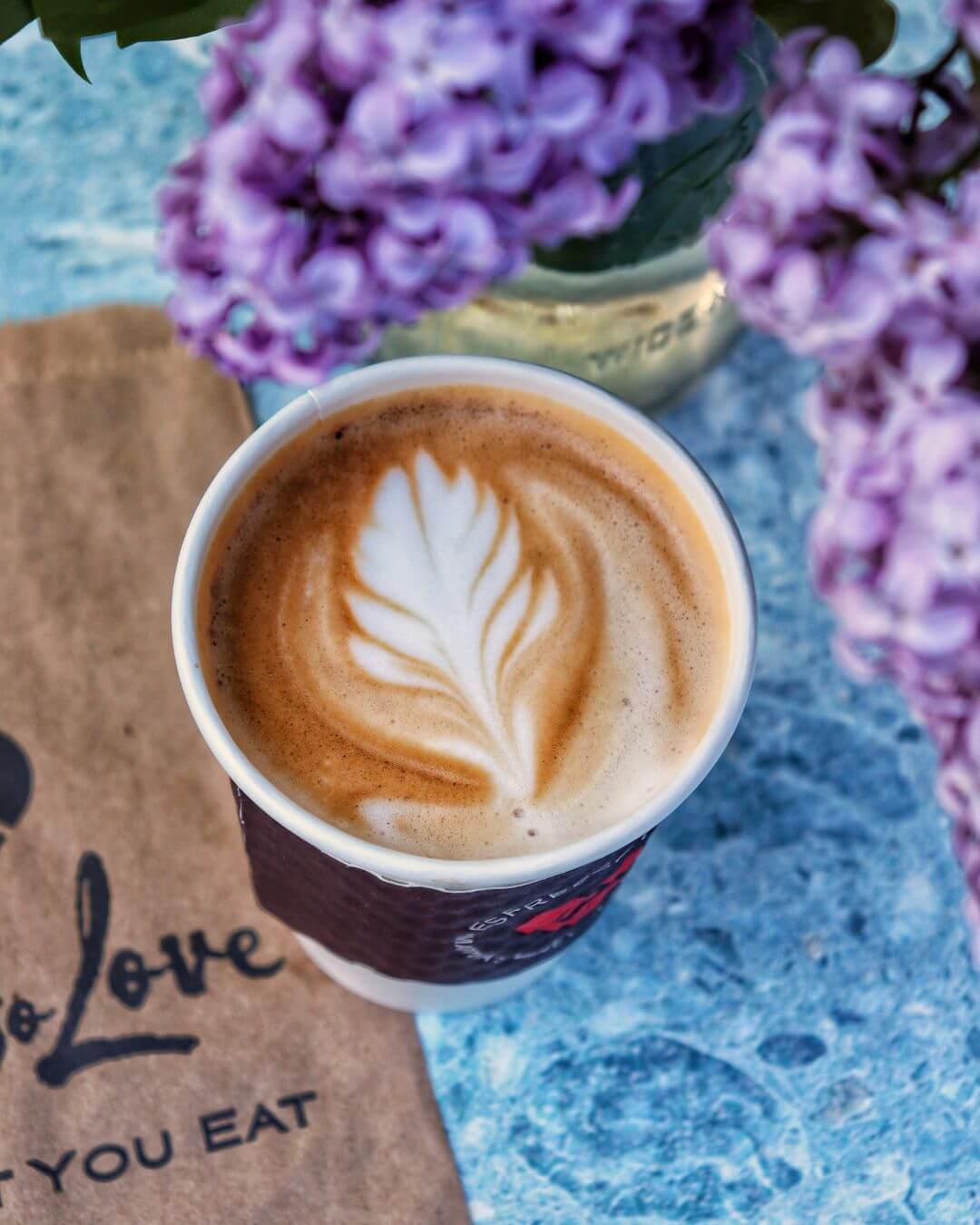 This market in Edgartown not only serves locally roasted Chilmark Coffee Co. beans, but they are very creative with their drink menu and offer a great variety of options. They also serve breakfast all day, as well as having lunch options and a counter filled to the brim with freshly baked goods from their kitchen. Open Year Round.
Tucked quite literally behind Edgartown Books, hence the name Behind the Bookstore, this spot in Edgartown has some incredibly talented baristas and will craft you a gorgeous drink. A very popular drink in the summer is their iced lavender lattes, the perfect combination of sweet and floral, that you can enjoy in their covered patio. They also serve lunch and dinner in season.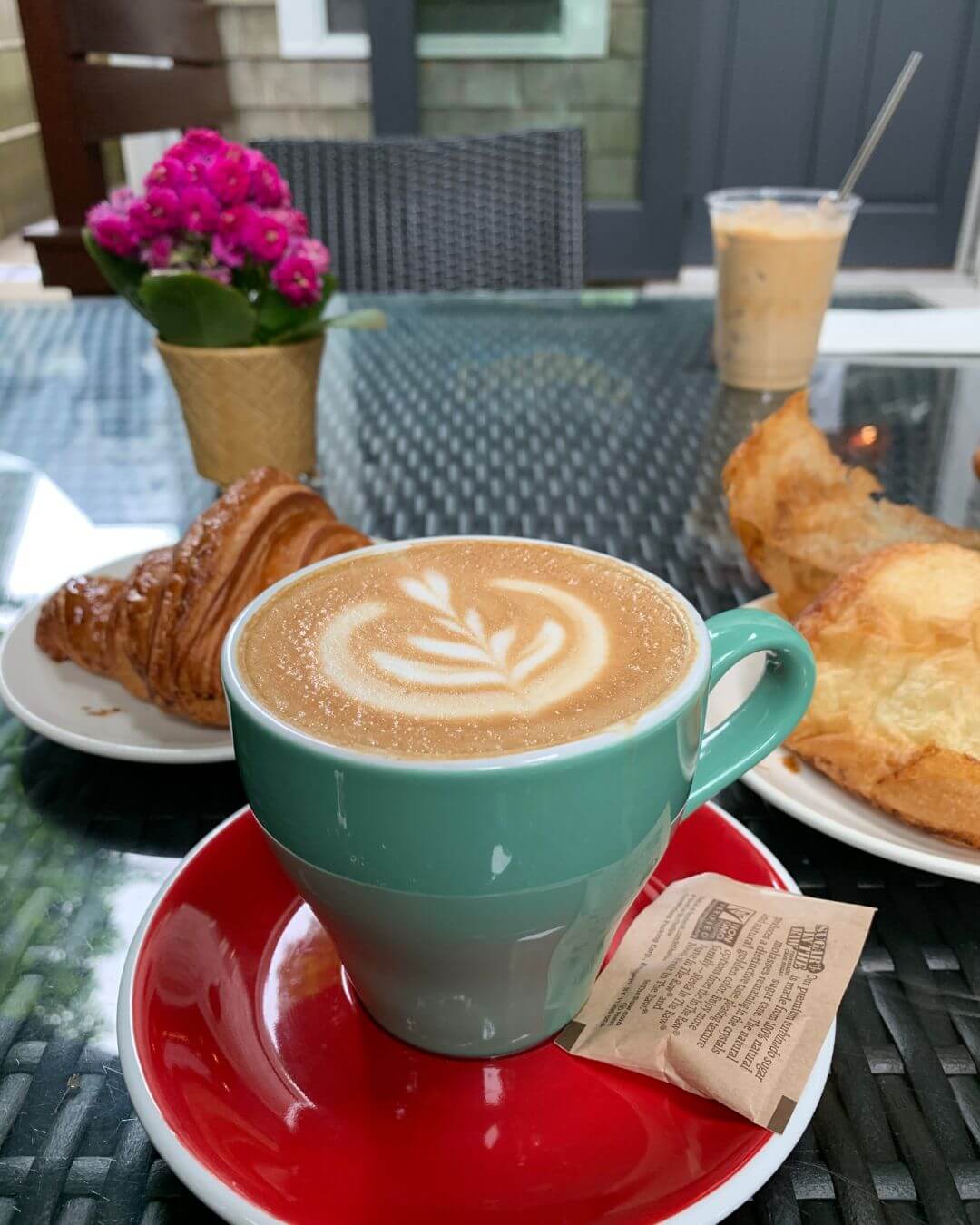 The only place on the Island where you can get coffee and boba tea at the same time! If you love Boba Tea, they have a wide range of flavors, not limited to: Mango, Strawberry, Lemonade, Taro, Chai, Thai, Green tea chai, Matcha, Bubblegum, Chocolate, and more! They also have syphon coffee, a unique method that is said to produce a superior taste that avoids boiling the coffee, which is why syphon coffee makers are widely celebrated for brewing some of the best, purest coffee. You will also find a location in Oak Bluffs with the same offerings. 
Edgartown Meat and Fish Market
Most people don't know this, but you can get your beloved Starbucks Coffee in Edgartown, at this popular market. Grandfathered in, EMFM is not only a great stop for provisions, beach sandwiches, and wine & beer, but they also have a counter for Starbucks, where you can get most everything a regular mainland Starbucks offers. This Starbucks in Edgartown on Martha's Vineyard is perfect for those visitors that need their cravings satisfied! Open Year Round.
This culinary destination in Edgartown not only serves up espresso, lattes, cold brew, cappuccinos, and drip coffee, but it's your one stop shop of all things foodie. You'll discover new trendy food items, plus their prepared foods section truly is delicious and hosts a huge variety of baked goods, salads, and prepared meals.
—
Notable locations in Edgartown where you can secure a cup of black coffee, either hot or iced: Dock Street Diner, Great Harbor Market, Morning Glory Farm, Katama General Store, Dip 02539, Among the Flowers Cafe, Macphail's Corner Cafe, Blackbird Cafe, Nina's at the Square Rigger, and Edgartown Diner. 
Oak Bluffs
This Oak Bluffs staple garners so much love from the community - they regularly showcase local artwork on their walls, and one of our favorite drinks is their iced mocha latte topped with the house made whipped cream. They also have a location in Vineyard Haven. 
Graba  frozen coffee drink here and beat the heat during the summer, this location is right on Circuit Avenue and close to everything fun in Oak Bluffs! 
Oak Bluffs' newest coffee shop, Aalia's is home to some of the most creative drinks, like their purple sweet potato latte or their cardamom latte. Plus, they have Lebanese-inspired breakfast dishes, and serve lunch items as well. 
Grab a tasty donut and coffee, and walk to Oak Bluffs Harbor to enjoy your treats with the soundtrack of the ocean waves relaxing you. The ideal treat! 
If you're looking for a plant-based, vegan coffee shop, Juice by the Sea in Oak Bluffs is just it. They offer a wide range of coffee-drinks with adaptogens, nutritional powders, and much more. Think health meets caffeine - the creative lattes will nourish you deeply. Open Year Round.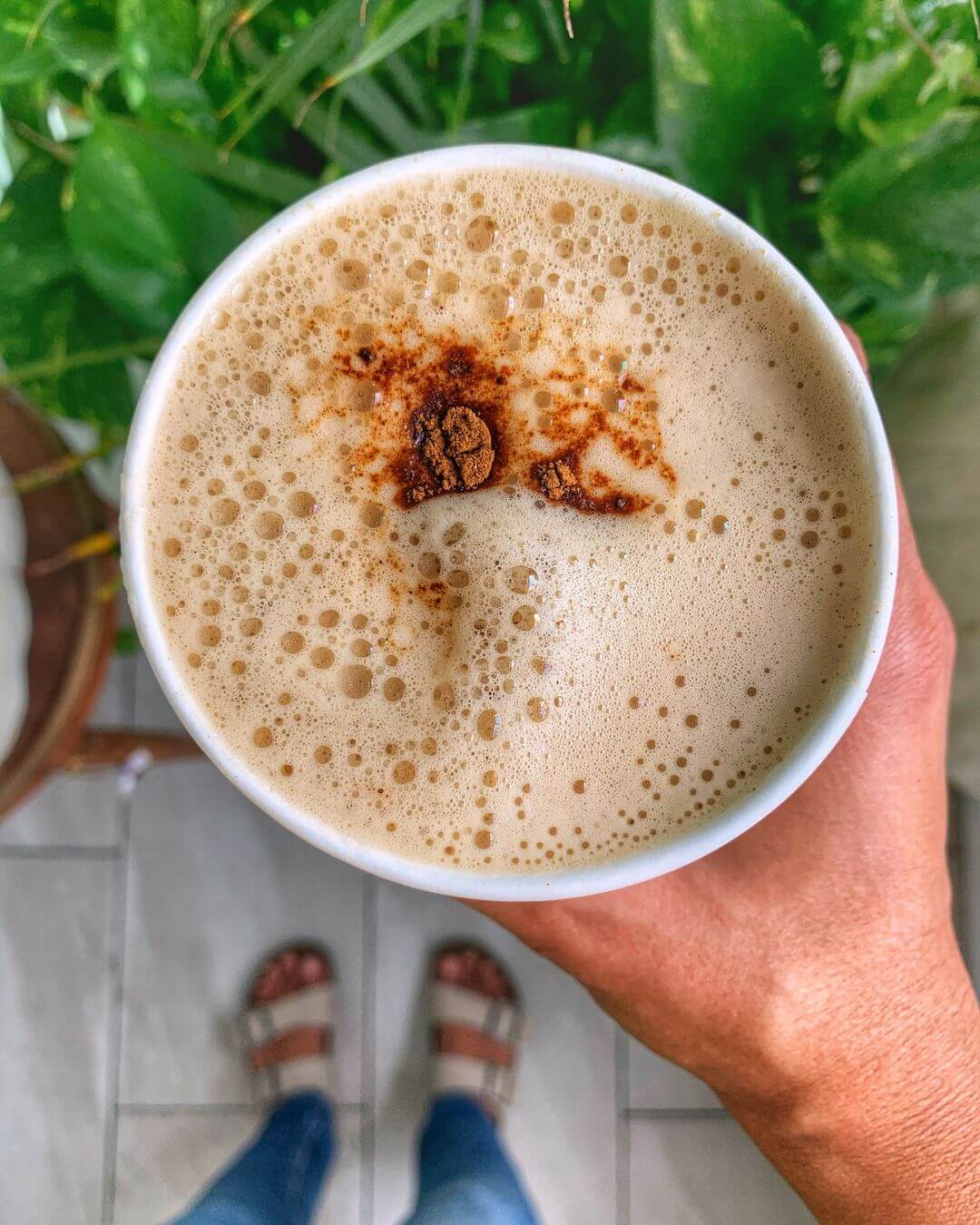 This small café offers breakfast sandwiches, healthy wraps sandwiches, fresh fruit dishes, salads, Black Dog pastries, baked goods, and their phenomenal espresso and coffee, all at a convenient dockside locale at Oak Bluffs harbor. Open Year Round.
Similar to their Edgartown location, located right on Circuit Avenue and offering a wide range of coffee drinks and smoothies. 
Oak Bluffs' newest coffee shop inside the YMCA brings you coffee in an area on the Island where there's no caffeine around, so the community welcomes this new spot! Plus, you can get delicious smoothies and snacks here as well. 
—-
Notable locations in Oak Bluffs where you can secure a cup of black coffee, either hot or iced: Winston's, Tony's Market, Linda Jean's, and Big Dipper Ice Cream.
Vineyard Haven
Vineyard Haven's newest coffee shop, Catboat Coffee will be serving up La Columbe Coffee and offer a lovely menu of espresso-based drinks as well as cold brew. This new culinary venture location will also offer a cheese counter and Lebanese food items, so stay tuned for all these delicious offerings! 
A smaller version of their location in Edgartown, this BTB does not have seating, but it's a great spot to pick up coffee on the go. Their easy parking makes it a quick option when you need coffee fast. 
Specializing in sweet and savory crepes, it's a great coffee shop on Main Street Vineyard Haven that offers espresso based drinks and teas, plus baked goods and bagels from local Cape Cod bakery Pain D'Avignon. The beans they offer in all their coffees are from their own brand of coffee, called East to West, roasted right on the Island by this husband and wife team. Open Year Round.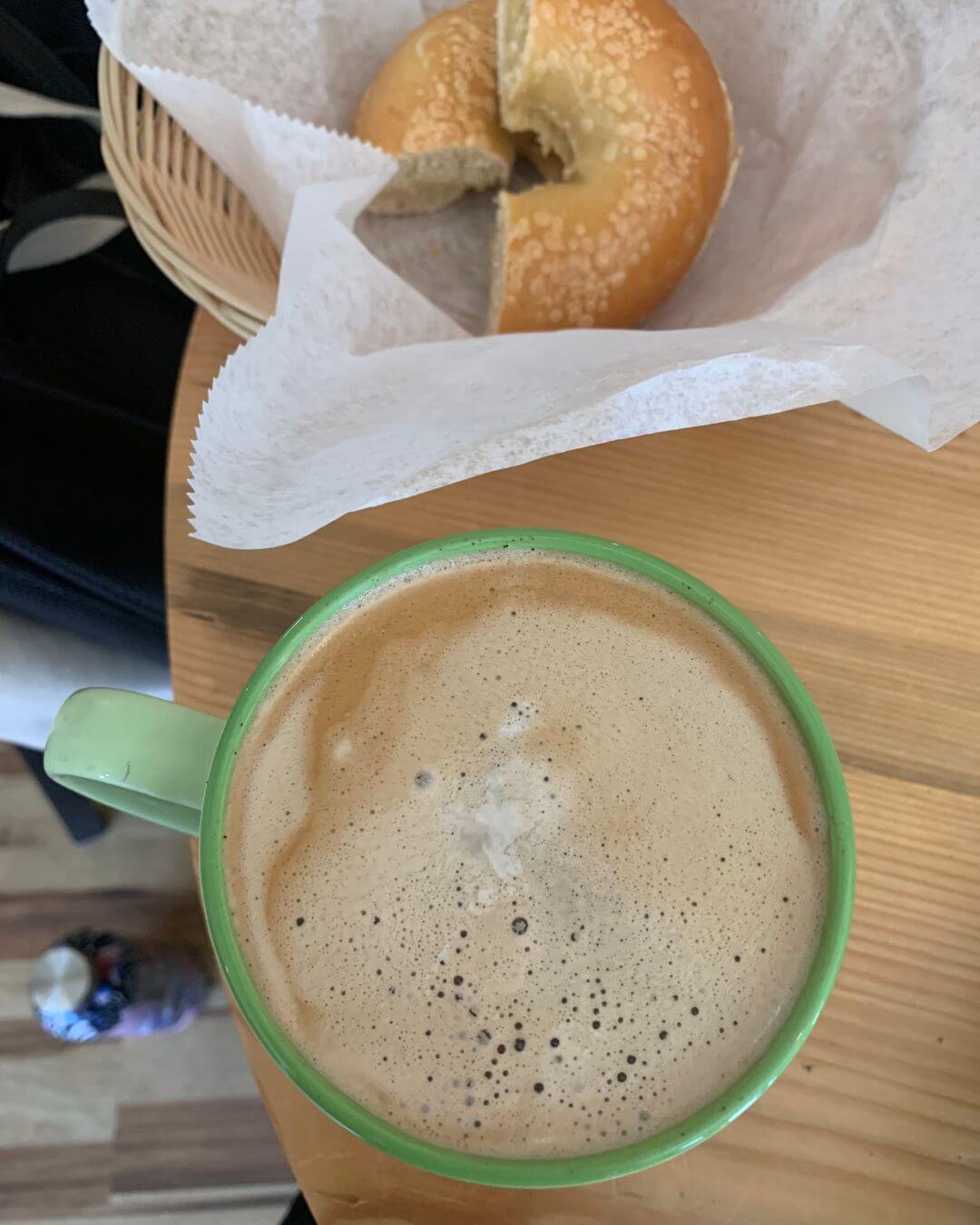 This sought-after market and cafe is known for its consistency and community love, a spot you'll love to become a regular at. Their matcha drinks are popular, plus they offer breakfast all day, plus lunch and dinner options. Open Year Round.
This humble cafe in Vineyard Haven has a variety of espresso drinks, plus their bakery offers a wide range of delicious treats to accompany their coffees. Open Year Round.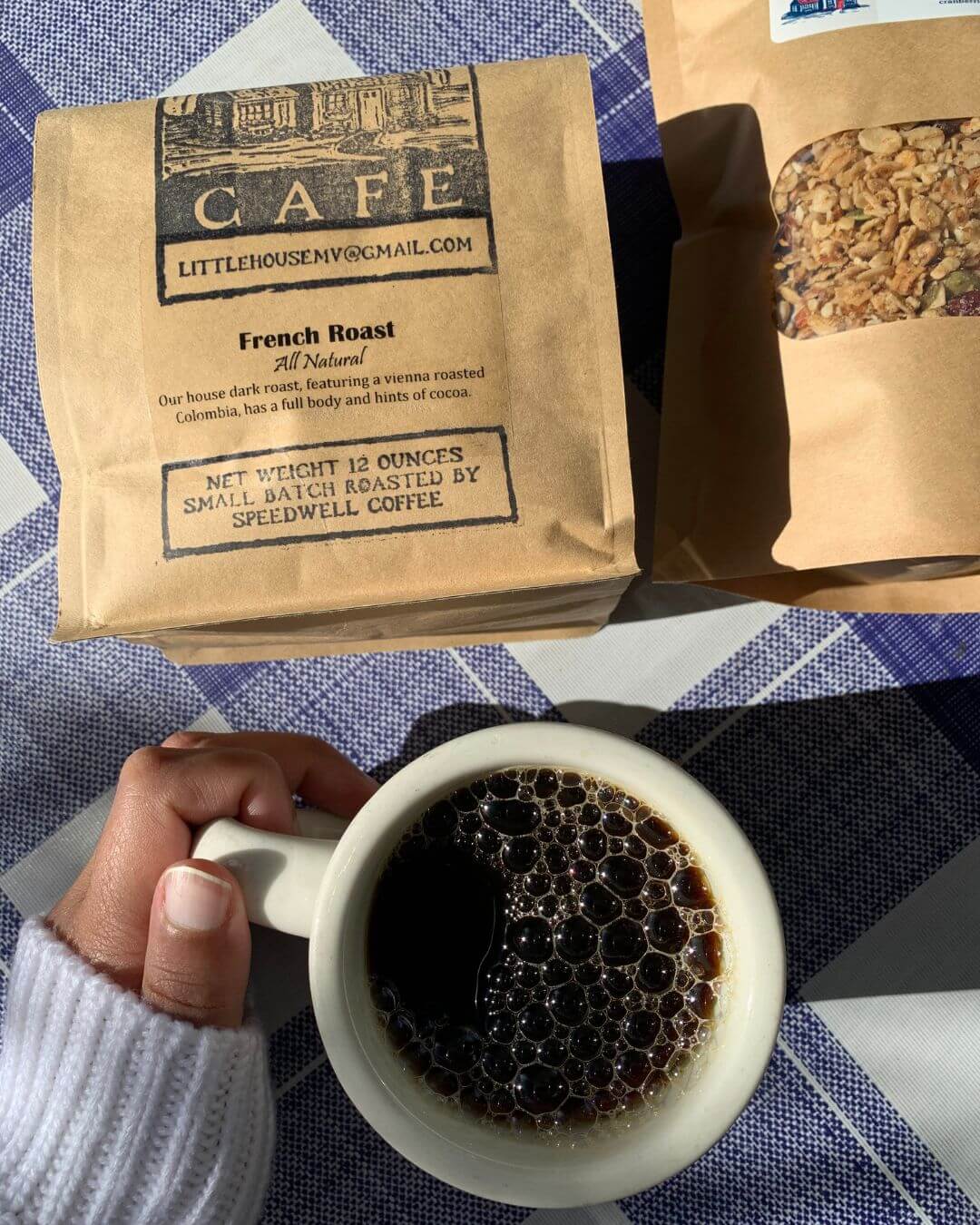 Serving authentic French breads and pastries, they also serve special blends of organic, fair trade coffee and espresso drinks, all roasted inhouse. Plus it's the only coffee shop on the Island that you can also get ice cream at! Open Year Round.
Black Dog Bakery & Black Dog Water Street
A classic Vineyard eatery, bakery, and coffee shop, these two locations in Vineyard Haven offer coffee, espresso drinks, and much more. Grab a quick coffee at their location next to the Steamship Authority on Water Street, or settle down for coffee and breakfast at their State Road location. Open Year Round.
This Brazilian-owned bakery is home to delicious treats like brigadeiros, small truffle-like desserts, as well as a great spot to grab a coffee. They have indoor and outdoor seating, and offer classic coffee drinks as well as nitro-coffee, which is a great drink on a hot summer day! Open Year Round.
Similar to its Oak Bluffs location, find this coffee shop on Main Street Vineyard Haven, close to Bunch of Grapes Bookstore. 
—-
Notable locations in Vineyard Haven where you can secure a cup of black coffee, either hot or iced: Scottish Bakehouse, Slice of Humphrey's, Woodland Variety & Grill, Cumberland's Farm, Xtra Mart, and Art Cliff Diner. 
Up Island
This new up-island coffee shop and gift shop located in the Aquinnah Circle overlooking the Aquinnah Cliffs is native-and-locally owned. Their iced coffee drinks are delicious, and they offer a variety of sweet syrups to add to your drinks! Shop their curated shop for gifts and snacks alike! 
—
Notable locations Up Island where you can secure a cup of black coffee, either hot or iced: 
North Tisbury Farm, Chilmark General Store, Menemsha Deli, Plane View, 7aFoods, Alley's General Store, and Vineyard Takeout. 
Please note businesses tend to have a variety of schedules so make sure to call ahead or check their websites for the latest updates.