Martha's Vineyard Gift Guide for Book Lovers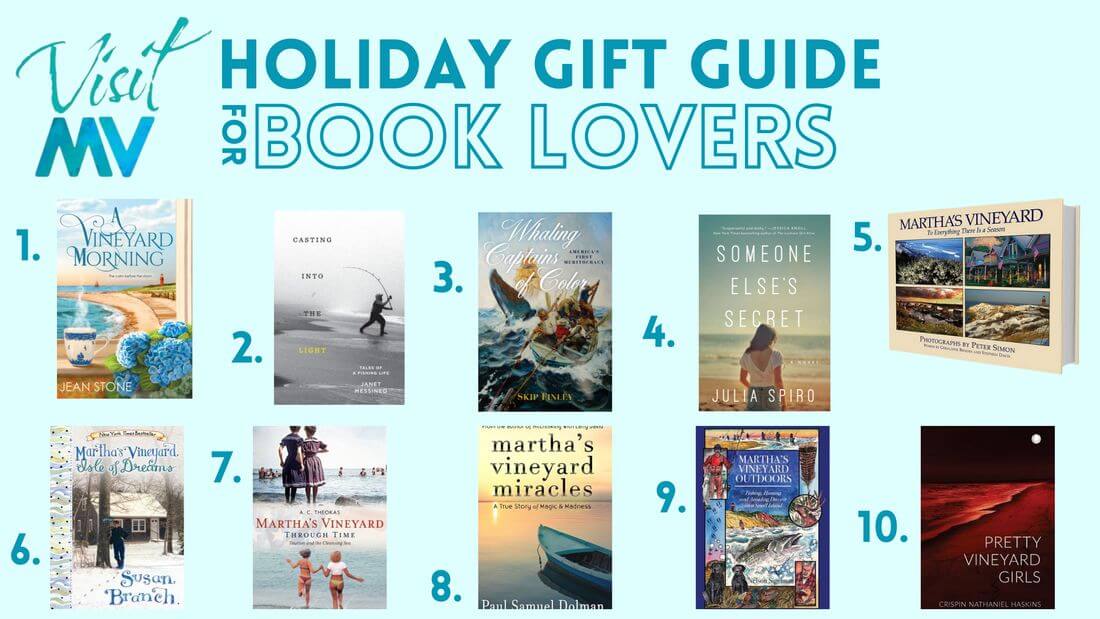 There's nothing quite like curling up with a good book, especially around the holidays, and our local authors and book stores offer some of the most exciting, heartfelt, and educational books around. Whether you shop online from our two independent Martha's Vineyard bookstores, Bunch of Grapes or Edgartown Books, or shop direct from one of our many local authors, we know you'll discover page turners sure to satisfy your favorite bookworm this holiday season.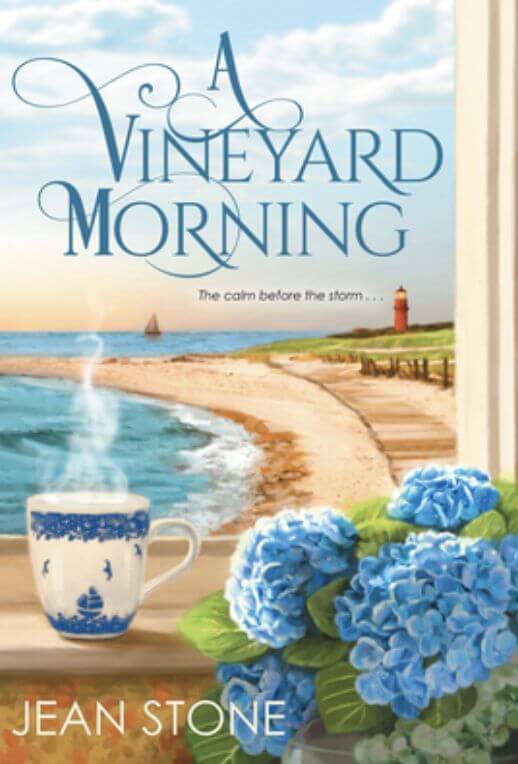 1. Shop: A Vineyard Morning by Jean Stone
A native of New England, Jean Stone has lived on Martha's Vineyard and Cape Cod for several years. In Stone's third Vineyard novel, a visit from her biological mother threatens to upend bestselling novelist and Island transplant Annie Sutton's new life on Martha's Vineyard.
Life is usually quiet during the off-season on Martha's Vineyard, but not for island newbie and bestselling novelist Annie Sutton...
Finally settled into her adopted Island home, Annie is looking forward to writing her next mystery, making soap for her new business, and starting renovations on the Inn she plans to open by the summer. She's also enjoying spending more time with local police sergeant John Lyons, the man she's only just gotten comfortable calling her boyfriend. She's even starting to relish her relationship with John's teenage daughter, Lucy. It's probably not the best moment for a visit from the biological mother Annie only recently met. Still, it's high time she got to know the mysterious Donna MacNeish...
But Donna's visit isn't merely a social call--she's come to share some devastating news. Seeking solace in an outing with Lucy, Annie and the teen stumble upon skeletal remains on the Inn's property, a finding that calls a halt to all construction while the police investigate. Desperate for answers, Annie starts asking questions of her own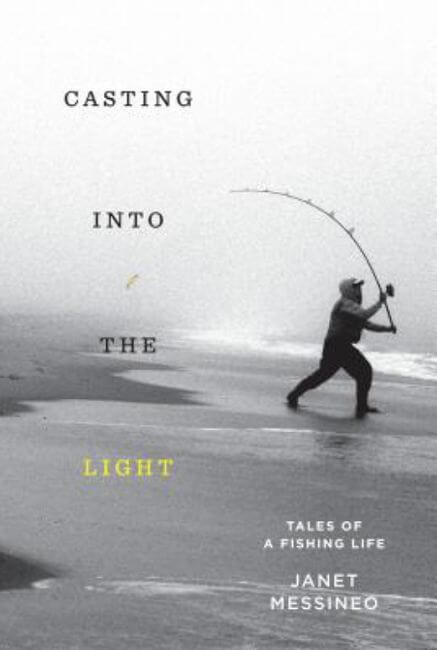 2. Shop: Casting into the Light: Tales of a Fishing Life by Janet Messineo
This book by renowned local fisherwoman Janet Messineo tells her tales as a champion surf caster. Enjoy reading about the education of a young woman hell-bent on following her dream and learning the mysterious and profound sport, and art, of surf casting, on Martha's Vineyard.
Messineo knew from the get-go that she wanted to become a great fisherman. She knew she was as capable as any man of catching and landing a huge fish. It took years—and many terrifying nights alone on the beach in complete darkness, in search of a huge creature to pull out of the sea—for her to prove to herself and to the male-dominated fishing community, that she could make her dream real.
Messineo writes of the object of her obsession: striped bass and how it can take a lifetime to become a proficient striped bass fisherman; of stripers as nocturnal feeders, hard-fighting, clever fish that under the cover of darkness trap bait against jetties or between fields of large boulders near shorelines, or, once hooked, rub their mouths against the rocks to cut the line.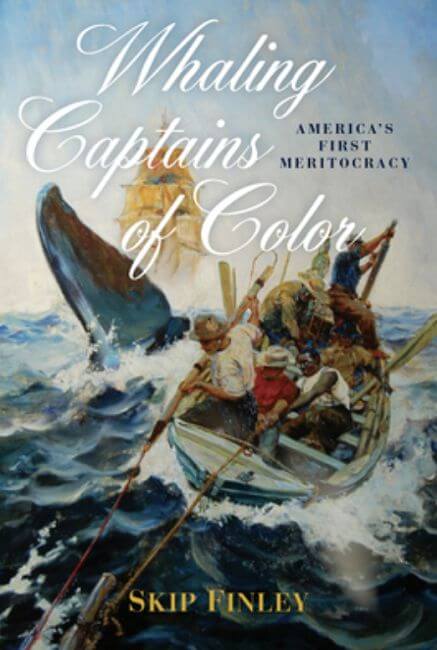 3. Shop: Whaling Captains of Color: America's First Meritocracy by Skip Finley
The history of whaling as an industry on this continent has been well-told in books, including some that have been bestsellers, but what hasn't been told is the story of whaling's leaders of color in an era when the only other option was slavery. Whaling was one of the first American industries to exhibit diversity. A man became a captain not because he was white or well connected, but because he knew how to kill a whale. Along the way, he could learn navigation and reading and writing. Whaling presented a tantalizing alternative to mainland life.
Working with archival records at whaling museums, in libraries, from private archives and interviews with people whose ancestors were whaling masters, Finley culls stories from the lives of over 50 black whaling captains to create a portrait of what life was like for these leaders of color on the high seas.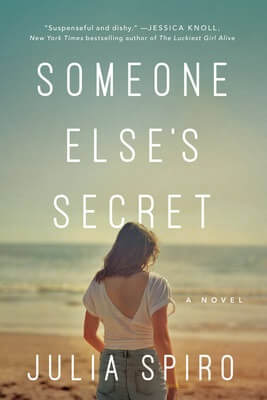 4. Shop: Someone Else's Secret by Julia Spiro
Here's the thing about secrets: they change shape over time, become blurry with memory, until the truth is nearly lost.
Lindsey and Georgie have high hopes for their summer of 2009 on Martha's Vineyard. In the wake of the recession, ambitious college graduate Lindsey accepts a job as a nanny for an influential family who may help her land a position in Boston's exclusive art world. Georgie, the eldest child in that family, is nearly fifteen and eager to find herself, dreaming of independence and yearning for first love.
Over the course of that formative summer, the two young women develop a close bond. Then, one night by the lighthouse, a shocking act occurs that ensnares them both in the throes of a terrible secret. Their budding friendship is shattered, and neither one can speak of what happened that night for ten long years.
Until now. Lindsey and Georgie must confront the past after all this time. Their quest for justice will require costly sacrifices, but it also might give them the closure they need to move on. All they know for sure is that when the truth is revealed, their lives will be forever changed once again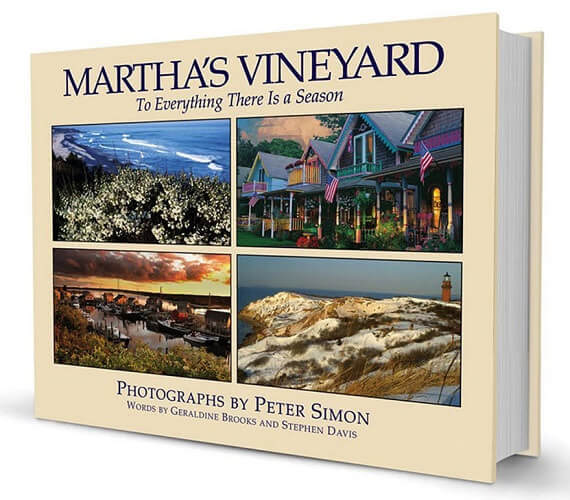 5. Shop: To Everything There is a Season, by Peter Simon
This was late photographer Peter Simon's magnum opus about the Island he loved. A major piece of work which is 276 pages long, 11 X 14 inches, includes more than 700 photographs, and weighs over 6 pounds.
Pulitzer prize winning author Geraldine Brooks contributes the text which cover the four seasons and introduces each section of large reproductions of some of Peter's iconic imagery, as well as smaller sections (or "panoplies" as he liked to describe them) about certain specific events or aspects of Vineyard life that he had covered for 50 plus years. All told, this book will become a legacy for both Peter and his beloved Island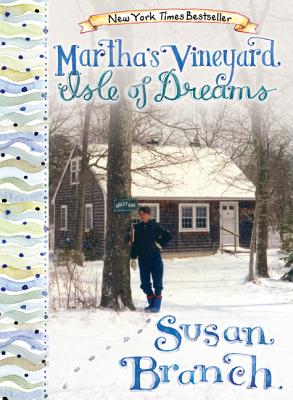 6. Shop: Isle of Dreams by Susan Branch
In the winter of 1982, long before she became the watercolor artist and author we know today, Susan Branch, 34-years-old and heartbroken from the sudden and unexpected end of her marriage in California, "ran away from home" to the Island of Martha's Vineyard hoping to gain perspective.
It was meant to be temporary, a three-month time-out from the daily grind of being broken up and miserable, but within days of her arrival, alone and not quite in her right mind, Susan "accidentally" bought a tiny one-bedroom cottage in the woods ~ which is how she discovered she was moving 3,000 miles away from everyone and everything she had known and loved.
Funny, observant, touching, and addictive (you are not going to want this book to end), based on the diaries she has kept all her life, Susan Branch relates her inspirational tale of lost love and self discovery, her search for roots, purpose, and destiny with laugh-out-loud honesty. A road map for overcoming loss, following your heart, and making dreams come true, charmingly hand-lettered and watercolored in Susan's inimitable style, there are diary excerpts, recipes, and hundreds of photographs.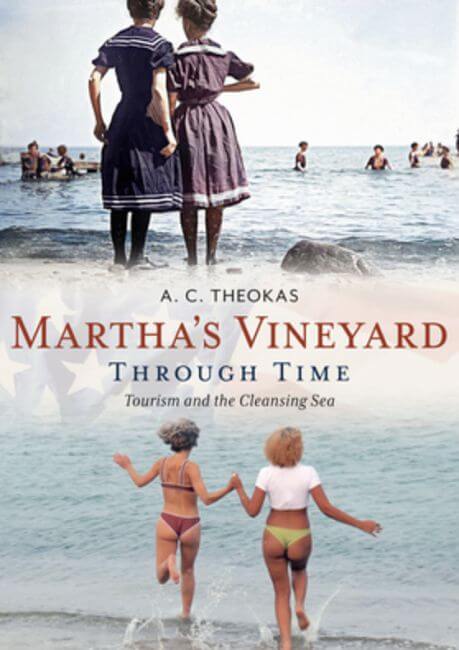 7. Shop: Martha's Vineyard Through Time: Tourism and the Cleansing Sea by A. C. Theokas
No East Coast summer resort has as intriguing a beginning as that of Martha's Vineyard. Before it became a tourist mecca, it already had thousands of summer visitors, but visitors who came for salvation, not the sun. Wesleyan Grove, the site of the most successful campground revivals held anywhere, provided congregants with communal support for their new evangelical lives. The Vineyard Campground, however, also attracted those who sought physical expression in sunshine and sea air more than redemption.
Local investors spotted the financial opportunity this presented, leading to the creation of the first town in the entire United States designed and built expressly for tourism. Photographs representative of this period of early Martha's Vineyard are herein paired with contemporary ones. There have been changes, but the basic yearnings of summer vacationers remain as they were over 150 years ago.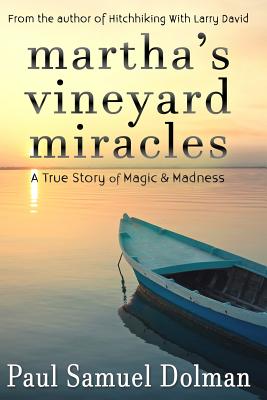 8. Shop: Martha's Vineyard Miracles by Paul Dolman
From multi-talented author and polymath Paul Samuel Dolman comes "Martha's Vineyard Miracles," the follow-up to the 2010 beloved humorous memoir "Hitchhiking With Larry David." He's reunited with the girl of his dreams. He's on a mission (quite possibly divinely inspired) to write his very first book. Everything's looking up. What could make the best time even better? A triumphant return to Martha's Vineyard for a delightful summer of spontaneous and unlikely conversations, reconnecting with family and old friends, and radiant love.
But it'll take a Martha's Vineyard miracle to turn things around when unresolved issues and mounting differences threaten to drive a wedge between Pauly, his girl, and their chances for ultimate happiness... In "Martha's Vineyard Miracles," Paul Samuel Dolman brings a new depth to the thumbs-out, say-yes philosophy of "Hitchhiking With Larry David" while delivering another message of hopeful, uplifting growth.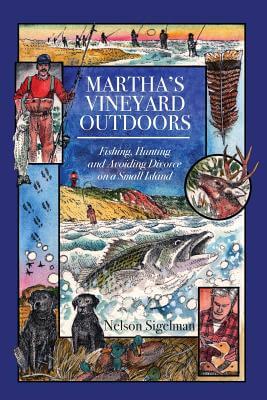 9. Shop: Martha's Vineyard Outdoors: Fishing, Hunting and Avoiding Divorce on a Small Island by Nelson Sigelman
Martha's Vineyard is a well known summer vacation spot. In this collection of columns, former Martha's Vineyard Times editor Nelson Sigelman describes an Island preoccupation, less notorious than tourism but more obsessive, rooted in fishing, hunting and waterfowling traditions that shaped the island's character well before a mechanical shark named Bruce and presidents Bill Clinton and Barack Obama attracted slavish media attention to a 100-square mile speck off the coast of Massachusetts. Martha's Vineyard Outdoors casts a wide net.
"The pleasures of Nelson Sigelman's distinctive voice held this non-fishing, non-hunting, feminist, tree-hugging pinko spellbound from the first column to the very last," said Island resident and Pulitzer Prize winning author Geraldine Brooks. The setting is Martha's Vineyard but the stories are rooted in the humor and love of the outdoors found in small communities across the country.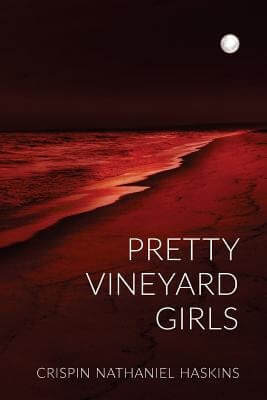 10. Shop: Pretty Vineyard Girls: A Martha's Vineyard Mystery by Crispin Nathaniel Haskins
A dead whale is floating along the south shore of Martha's Vineyard, blowing an ill wind across the entire Island. Edgartown Police Chief Laurie Knickles is on her honeymoon, leaving the capable Detective Jack Burrell in charge. When an Edgartown socialite is found murdered in her home, Jack must decide whether or not to call the Chief back from her Nantucket vacation.
In Oak Bluffs, three young women-Alice, Trish, and Virginia-are opening a clothing store, Pretty Vineyard Girls, on Circuit Avenue. The three friends have worked hard for this and nothing-not even an abusive ex-boyfriend turned stalker-is going to stop them. When one of the women goes missing, it's time to call in Police Chief Jefferies. As the evidence mounts in Edgartown, Detective Burrell's murder case looks like a sex crime. The Edgartown and Oak Bluffs police departments realize they're working the same case just in time to discover a second body.