Book a Romantic Island Getaway to Martha's Vineyard this Valentine's Day 
Are you looking to make this Valentine's Day extra special? Escape to the beautiful island of Martha's Vineyard with your special someone this Valentine's Day. With the Island's stunning natural beauty, quaint towns, and array of romantic activities – there is something for everyone during this season of love!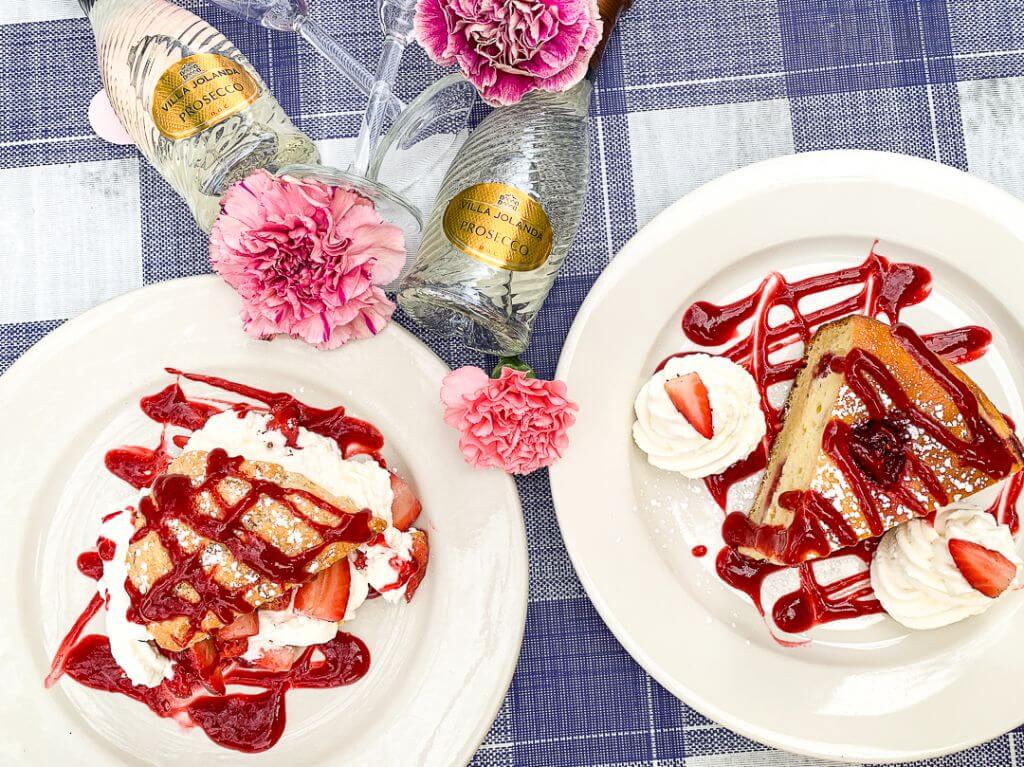 Dining
There are plenty of fantastic restaurants open on Martha's Vineyard year-round, and a handful of them are featuring Valentine's Day specials this year! In the mood for a formal dinner, or maybe just looking for some wines paired with delicious desserts? Look no further, here's what you can find on the Island for Valentine's Day week:
Bettini: If you're visiting the Island the weekend before Valentine's Day, it's worth making the reservations at Bettini, located at the iconic Harborview Hotel in Edgartown. Celebrate love with the one you love while dining on delicious cuisine framed around the romantic holiday, and catch sunset views of the stunning Edgartown Harbor Light right from your table! Considered one of the most romantic restaurants on the Island, make sure to get your reservations in early.
Little House Cafe: Do you love pairing dessert with wine? What if we told you the dessert could be a heart shaped cake? Little House Cafe in Vineyard Haven is offering a handful of wine and dine to-go packages for the holiday! Whether you and your honey are into prosecco, rosé, or champagne, this little cafe has it all. You can preorder Valentine's Day packages here through February 11th at 7pm. If you'd rather skip the booze this time around, Little House is also offering delicious strawberry flavored lattes, chocolate covered strawberries, and a variety of heart shaped cookies and desserts!
Juice by the Sea: If you're looking for something on the healthier side, Juice by the Sea's Valentine's Day Tasting menu will not disappoint! Featuring five courses of inventive vegan dishes, this menu serves two people and even features a chocolate ganache heart cake for dessert. Available for preorder now!
Sweet Bites: This little pink bakery in downtown Vineyard Haven should definitely be on your Valentine's Day bucket list, especially if you've never been before! Just steps from the ferry, this bakery is home to some of the sweetest treats the Island has to offer. During the holiday, they feature a handful of heart-shaped desserts and chocolate covered strawberries. And if you haven't tried their famous brigadeiros, we highly recommend dropping what you're doing and racing there ASAP!
Enchanted Chocolates: What is Valentine's Day without chocolate? Make sure to stop by Enchanted Chocolates in Oak Bluffs for their assortment boxes of locally made chocolates and other sweets! Plus, if your valentine is a big fan of the Island, consider gifting them a Martha's Vineyard Molded Chocolate Lollipop (or two, or three!)
Rockfish: Wine and dine in the heart of downtown Edgartown this Valentine's Day at Rockfish, a restaurant best known for its seafood dishes, creative cocktails, and stylish atmosphere. Featuring two full bars and a wood-fired pizza oven, you and your honey are sure to find something delicious on the menu!
Salvatore's Ristorante Italiano: Surprise your loved one with a romantic dinner for two in the heart of downtown Vineyard Haven at Salvatore's Ristorante Italiano. Dine on authentic Italian dishes featuring delicious pastas, fine wines, and fantastic desserts. Stay toasty inside the main restaurant, or enjoy a romantic evening on their heated covered patio!
Chilmark Community Center: Why not support local education with your Valentine's Day date night plans? On February 14th, the Martha's Vineyard Public Charter School is hosting a Valentine Dinner to raise funds for their 8th grade trip to Italy!

Flowers
Don't forget the flowers! Make this Valentine's Day unforgettable with a stunning bouquet of flowers and some thoughtful gifts from one of our local flower shops:
Morrice Florist: Located just outside of downtown Vineyard Haven, Morrice Florist is prepared for Valentine's Day. If you're planning on celebrating the weekend before the holiday, this flower shop will be open all weekend long with a plethora of new flowers and gifts in stock to celebrate! Plus, if you're planning on visiting them on Valentine's Day, you can get $10 tulip bunches for their Tulip Tuesday special!
Juniper & Donaromas: While Juniper in Edgartown may be closed until April, they are not missing out on Valentine's Day! You can pre-book their beautiful floral creations for the big day, including roses, tulips, and so much more. They also have some locally made gifts available for preorder, such as limited edition bleeding heart mugs by JK Design Co, and some sweet treats from Sweet Bites!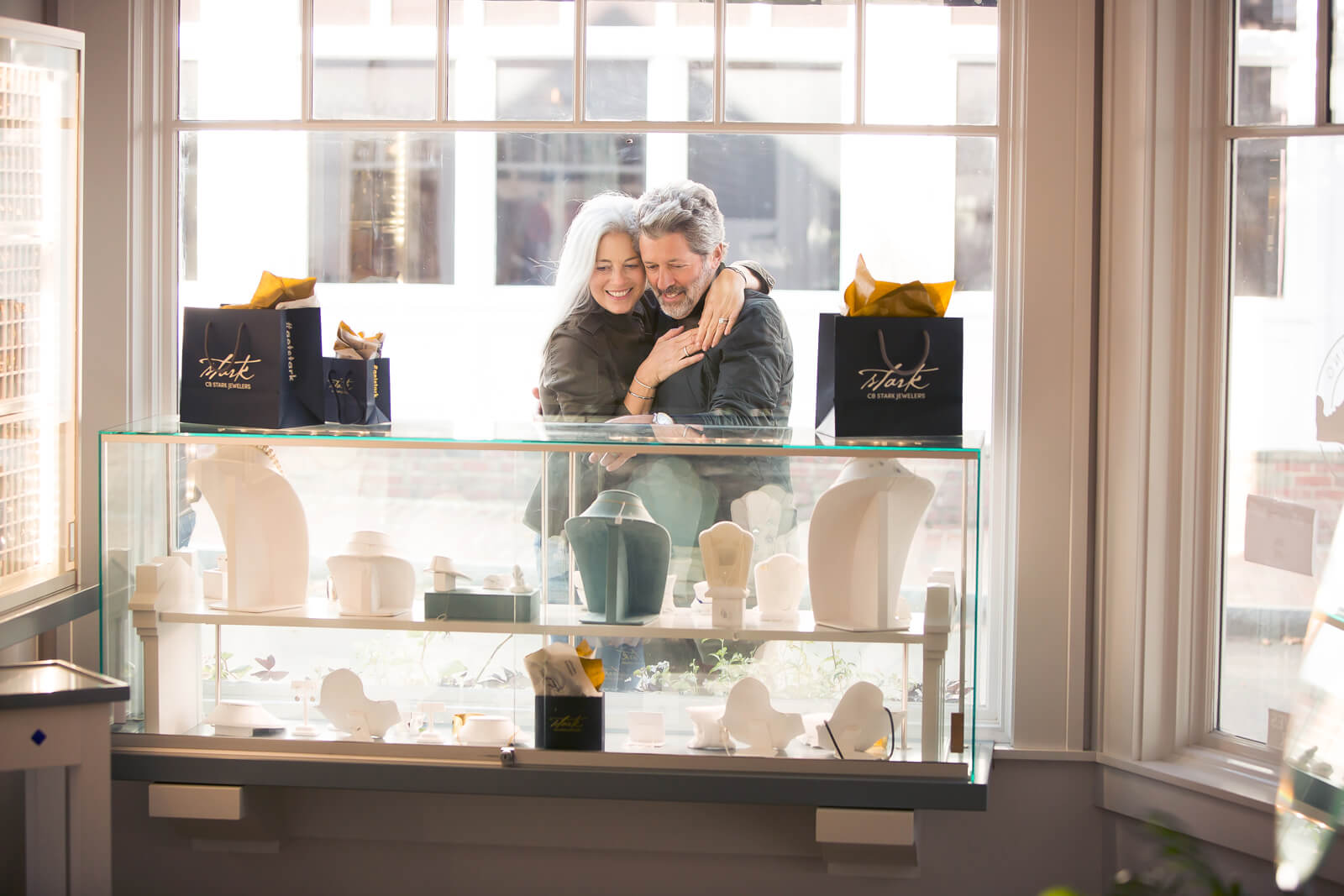 Shopping
Treat your valentine to a shopping spree this Valentine's Day! Lots of stores are still open around the Island, and some are even offering pop-up shops and sales in celebration of the holiday:
Mo's Lunch: Don't miss out on this lovely Valentine's Pop-Up at Mo's Lunch in Oak Bluffs! On Saturday, February 11th from 11 – 3pm, stop by for some food, drinks, and a great local shopping experience! This pop up features a handful of local artists and artisans, including goodies like artisan chocolates, pottery, woodworking, and more! You can even get a chair massage while you shop for your Valentine.
CB Stark: Give your loved one the gift of a beautiful new piece of jewelry by CB Stark! They have temporarily opened up their store in Edgartown while their Vineyard Haven store undergoes renovations, and to celebrate, they're hosting some incredible sales! From now until February 15th, you can get up to 50% off in store. It's the perfect opportunity to splurge on your loved one, whether it be buying a diamond ring to pop the question, updating your wedding bands, or just getting them that special something to say "I love you"! Plus, even if you're not on the Island for this very special holiday, you can still get 10% off online purchases using the code RENO.
Stefanie Wolf Designs: Head down to Oak Bluffs for a Valentine's Soirée at Stefanie Wolf Designs! On Saturday, February 11th from 5 – 7pm, enjoy refreshments while browsing irresistible Velvet Heart Pillows by Sylvie Bags, Stefanie's handmade jewelry, and locally made chocolates by Enchanted Chocolates. There will also be a gift basket raffle!
MV Sea Salt: Does your Valentine happen to be a foodie? If so, then you really don't want to miss out on this Martha's Vineyard Sea Salt sale! From now until February 20th, they're offering 14% off all of their sea salt blends when purchasing online. Just use the code LOVETHELOVE to claim your discount. We recommend their Naughty Sea Salt, a sexy and healthful blend of MV Sea Salt with activated charcoal.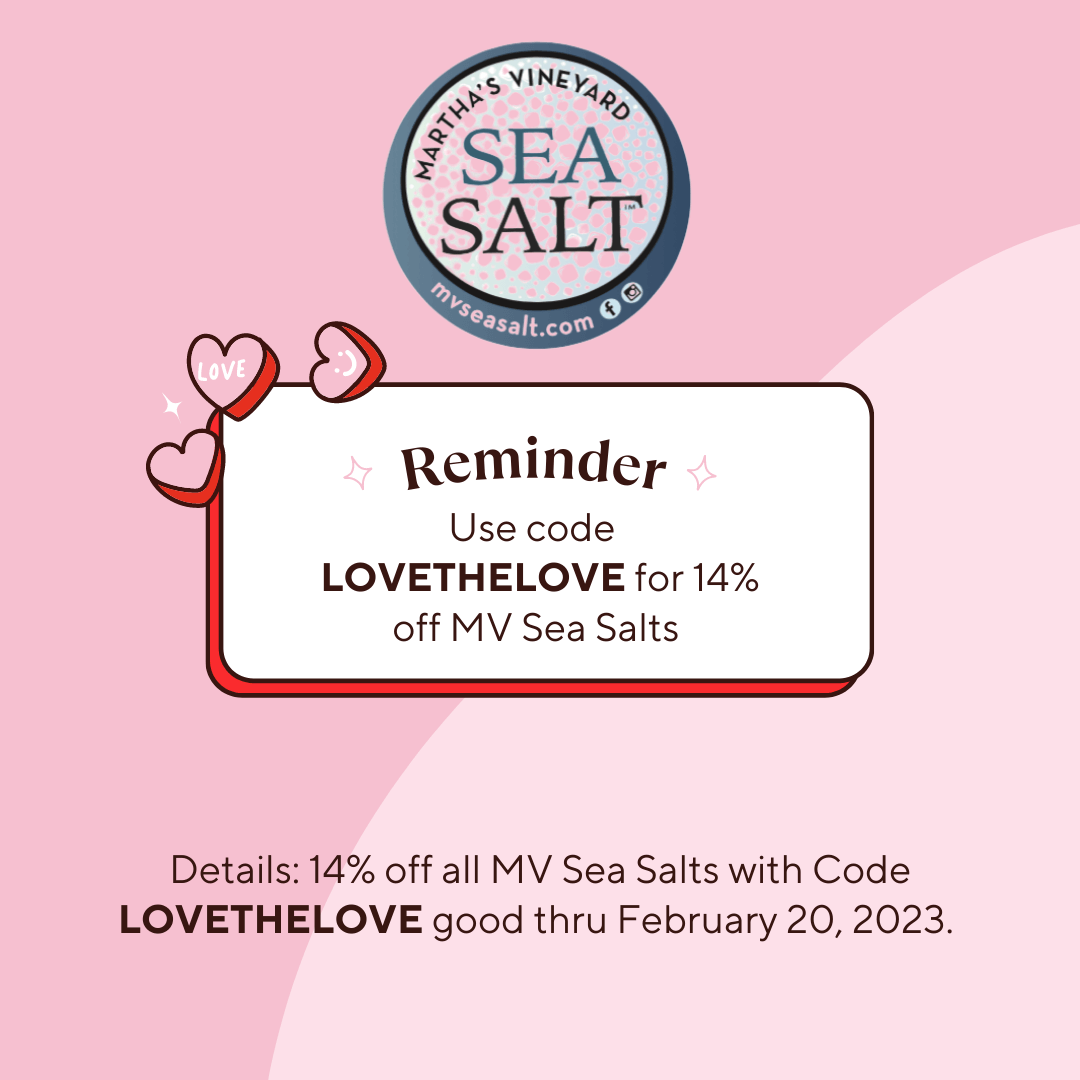 Revive by Sarka: this holistic boutique shoppe and spa in Vineyard Haven is helping you get ready for the special day by offering a 14% off discount in-store and online, using the code REVIVELOVE, valid February 8th through 10th. The perfect way to grab a gift or two for yourself or your loved ones!
Out and About
Some of the best parts of Martha's Vineyard don't involve spending money at all, but rather indulging in nature and the local community. Whether you're looking to take a romantic stroll or plan some fun for the whole family, there are great activities across the Island that you can take advantage of this Valentine's Day.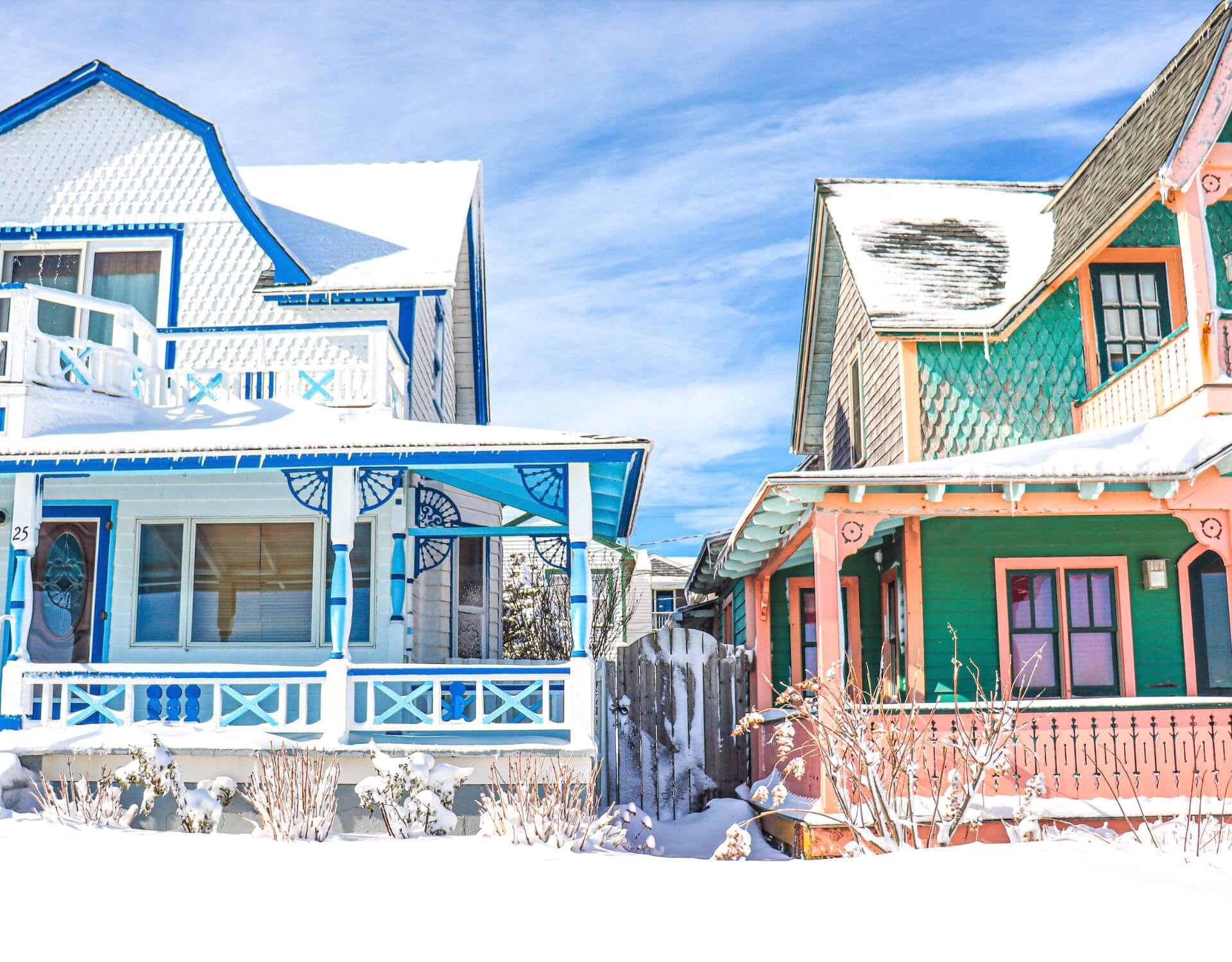 Gingerbread Cottages: Take the trip out to Oak Bluffs and explore the unique Gingerbread Cottages of the Martha's Vineyard Camp Meeting Association. This collection of colorful Victorian-style houses creates a perfect backdrop for a romantic winter stroll with a loved one, and if you happen to catch these cottages in the snow, it is truly a sight to behold!
Polly Hill Arboretum: Plan a romantic winter walk with your Valentine at Martha's Vineyard's beautiful Polly Hill Arboretum! This is a great spot to visit in every season, and this time of year is a very unique time to explore the grounds, as it is much more quiet and peaceful compared to the summer months. During the winter, some trees and shrubs may lose their leaves, but many plants display unique foliage color, textures, structure, cones, and berries. They're even hosting a Winter Walk tour on February 11th at 10am, making it a great opportunity to explore and learn all about the foliage together.
Mytoi Gardens: Surround you and your valentine with nature and tranquility during a romantic date at Mytoi Gardens! This unique Japanese garden can create a wonderful and romantic setting for a quiet winter afternoon. Mytoi Gardens are known for their winding paths, bridges, and ornamental ponds, and the winter weather adds a whole new beautiful experience unlike any other season. The Japanese maples and bamboo groves should not be missed this time of year! Pro tip: have a thermos of hot chocolate and some snacks ready for a romantic winter picnic.
Catch the sunset: There are so many great spots to catch the sunset this time of year, including places that are considered off-limits to many during the summer. Take advantage of the off-season access to places like Lucy Vincent, Squibnocket, and Lambert's Cove Beach for a romantic stroll along the water as the sun sets. Or, if you'd rather stay out of the cold, head down to Menemsha Beach and park facing the sunset! Crank up the heat and snap some pictures to remember this beautiful Valentine's Day memory.
Visit an Art Gallery: With lots of art galleries to explore across the Island, it's hard to choose just one. We'll make it easy – "Love Lives Here" is opening at Featherstone Center for the Arts on February 13th! Stop by the Francine Kelly Gallery from 12 – 4pm anytime between the 13th and 26th of February. It's a show all about love and Martha's Vineyard, which is a perfect activity to indulge in during your romantic Martha's Vineyard getaway!
Get Crafty: If you have some little ones celebrating Valentine's Day with you, head down to the Vineyard Haven Public Library on February 9th at 3:30pm for a free Heart Cookie Decorating event! Also, don't miss Valentine's Card Making at the Edgartown Public Library on February 13th and 14th from 10am – 4pm.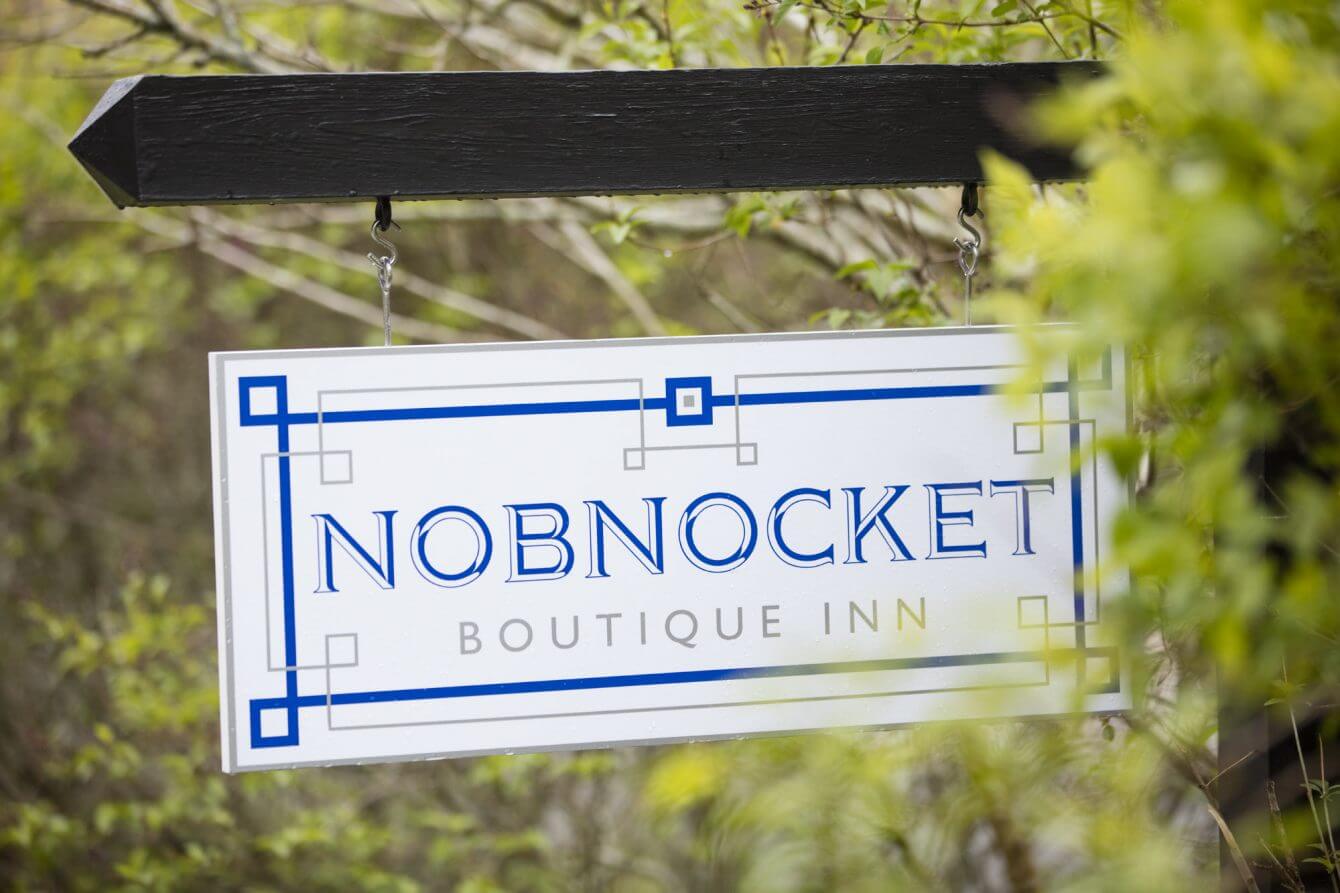 Stay
Looking for a place to plan your romantic escape? During the winter months, there are less hotels taking reservations (similar to restaurants and stores) but that doesn't mean you won't be able to find a place to stay!
Nobnocket Boutique Inn: If you're looking for a truly romantic experience, the Nobnocket Boutique Inn is everything you need and more! Their Valentine's Day package includes two night stays between February 14th through 19th, featuring daily gourmet breakfast served en-suite, plus a bottle of French Champagne and strawberries on arrival. If you're really looking to spice things up this holiday, consider adding on an in-room couples massage!
Whatever way you decide to celebrate the day of love, we hope it's sprinkled with a little Island love and hugs. Sending you much love this Valentine's Day, the Island that loves you so much – Martha's Vineyard.